Sara "The Indian Girl" Harrop
                  Sara Harrop Lineage 
John E Black 1931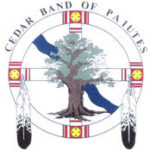 Reuben E Black 1901 – 1981
          Phoebe Lorraine Harrop Black 1870 – 1962
               Sara Harrop 1850 – 1880
In the book of family events Richard Benson of Parowan, Utah noted September 15, 1853 when he bought a little Indian girl for a blanket, which the Indian mother was glad to get. When asked what she did upon learning the child was now her own, Mrs. Benson said she "went in and gave it a bath, put clean clothes on it and burned the rags the child had on."
The family was kind to this Indian girl they named Sara. She was taught to mend clothing and help with the house work. Mrs Benson said she could bake bread to perfection as Sara would watch the bread every minute of the time it was baking. She was taught to cook, sew, and scrub floors and all the things that her white sisters were taught. Her daughter Phoebe Lorraine Black said Sara was built like the Bensons, tall and thin, whereas the Indians were shorter and heavier. Sara grew to womanhood and married an Englishman by the name of Henry Harrop. To this union were born nine children, seven of whom survived.
When Sara was about thirty years old, the family traveled with a group of people going to Arizona, and were in the Apache County, Arizona census records of 1880. The census lists Sara as Indian female and all the children as 1/2 Indian.  She was with child which made the trip more difficult. Henry and the children must have helped her a great deal, but riding in a wagon would have been uncomfortable.
Shortly after arriving in Arizona, Sara gave birth to twin boys. Phoebe remembers that night being under the wagon wrapped in a quilt hearing her mother give birth to the twins. As a result of complications suffered during childbirth, Sara and the twin boys died. A few days later they were buried in the Snowflake, Arizona Cemetery.
Phoebe also remembered her father making a casket for her Mom and placing the twins by her side. "I'm sure it was hard for him to do this. He put the casket on two kitchen chairs. Then each of the children climbed up the rungs of the chairs to have a last look at their Mother."
After Sara died, all the children were "farmed out" to good Mormon families to live, and work, while Henry went down to Lehi (Mesa), Arizona to get a place for them, possibly to homestead.
Interested in more, click on one of the following:
BlackFamilyGenealogy – Genealogy pertaining to the Black family only
BlackFamily Genealogy Research – 13,000 family and friends genealogy
FamilySearch Tree – LDS genealogy website (ID and password required)