DUTKO – ROBERT I, "THE BRUCE," KING of SCOTLAND b 1277 Isabella of Mar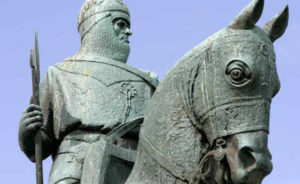 Robert I, King of Scotland, Bruce, is my 21st great-grandfather.  He was born 11 Jul 1274; died 7 Jun 1329. He married Isabella of Mar, born 1277; died 1316.
Robert I, popularly known as "Robert the Bruce," was King of Scotland from 1306 until his death in 1329. Robert was one of the most famous warriors of his generation, and eventually led Scotland during the First War of Scottish Independence against England. He fought successfully during his reign to regain Scotland's place as an independent country and is today revered in Scotland as a national hero. Descended from the Anglo-Norman and Gaelic nobility.
Children of Robert I, King of Scotland, Bruce and Isabella of Mar were as follows:
Marjorie, Princess of Scotland, born 1297; died 1316. She married Walter, High Steward of Scotland Stewart.
The Battle of Bannockburn
On 23 and 24 June 1314 King of Scots Robert the Bruce led an army against Edward II, King of England the First War of Scottish Independence. Though it did not bring overall victory in the war, which would go on for 14 more years, it was a landmark in Scottish history.
King Edward invaded Scotland after Bruce demanded in 1313 that all supporters still loyal to ousted Scottish king John Balliol acknowledge Bruce as their king or lose their lands. Stirling Castle, a Scots royal fortress occupied by the English, was under siege by the Scottish army. King Edward assembled a formidable force of soldiers from England, Ireland and Wales to relieve it — the largest army to ever invade Scotland. This attempt failed when he found his path blocked by a smaller army commanded by Robert the Bruce.
The Scottish army was divided into three divisions commanded by Bruce, his brother Edward Bruce, and his nephew, the Earl of Moray. After Robert Bruce killed Sir Henry de Bohun on the first day of the battle, the English were forced to withdraw for the night. Sir Alexander Seton, a Scottish noble serving in Edward's army, defected to the Scottish side and informed them of the English camp's position and low morale. Robert Bruce decided to launch a full-scale attack on the English forces and to use his divisions against the offensive units, a strategy his predecessor Sir William Wallace had not used. The English army was defeated in a pitched battle which resulted in the deaths of several prominent commanders, including the Earl of Gloucester and Sir Robert Clifford, and capture of many others.
The victory against the English at Bannockburn is the most celebrated in Scottish history, and for centuries the battle has been commemorated in verse and art.
Robert "The Bruce," King of Scotland – WikiPedia (Detailed)
Robert "The Bruce" I, King of Scotland – WikiPedia (Summary) 
Turnberry Castle – Birthplace of Robert I, King of Scotland
Sir William Wallace ("Braveheart"), Robert's Predecessor
The Robert I, "The Bruce," relationship line is unique because it intersects the Wallace line that goes back to  Sir William Wallace, Guardian of Scotland, who was the first to lead a battle against the English for independence. His life is told in the award winning movie "Brave heart."
                            Relationship Report
                                      for
                            Michael DUTKO Jr b.1948
                                      and
                   Robert The Bruce  King Of Scotland b.1274
——————————————————————————————
Robert The Bruce  King Of Scotland is the 21st great-grandfather of Michael DUTKO Jr.
                             Lines of Descent from
                       Robert The Bruce  King Of Scotland
——————————  /  ————  \  —————————————
Robert The Bruce  King Of Scotland b.1274
Princess Margorie BRUCE b.1296
Robert II  King of Scotland b.1316
Robert III King of SCOTLAND b.1337
Princess Mary STEWART Princess of Scotland, Countess of Angus b.1380
Rt Hon. Lord Sir Gilbert KENNEDY of Dunure, 1st Lord Kennedy, 1st Lord Cassilis, PC b.1405
Sir John KENNEDY of Dunure, 2nd Lord Kennedy b.1435
Elizabeth KENNEDY b.1470
Grizel RATTRAY b.1511
John STEWART 4th Earl of Atholl b.1530
Barbara STEWART b.1548
Peter LAW b.1578
Janet LAW b.1613
Robert BONE THOMSONE BONARES DEBOHUN b.1643
Alison THOMSON b.1665
James William FORRESTER b.1700
Thomas FORRESTER Sr b.1737
Elizabeth Betsey FORRESTER b.1763
James MEERS b.1781
Moses MEARS b.1811
William MEARS b.1835
James W MEARS b.0
Mary MEARS b.1911
Michael DUTKO Jr b.1948