Mary Beatrice Dastrup
Mary Beatrice Dastrup, born 14 May 1902 in Sigurd, Sevier, Utah, United States; died 20 Nov 1984 in Provo, Utah, Utah, United States; buried 24 Nov 1984 in Richfield, Sevier, Utah, United States, daughter of John Dastrup and Minnie Snow.  She married Cyril Christian Anderson on 6 Aug 1920 in Sigurd, Sevier, Utah, United States, divorced Cyril Christian Anderson.  Married Reuben Edward Black on 27 Sep 1924 in Junction, Piute, Utah, United States. Reuben Edward Black was born 25 Mar 1901 in Lehi, Maricopa, Arizona, United States. Divorced 15 Mar 1948. Died 9 Jan 1981 in American Fork, Utah, Utah, United States; buried 13 Jan 1981 in American Fork, Utah, Utah, United States, son of Nephi James Black and Phoebe Lorraine Harrop.
Children of Mary Beatrice Dastrup and Cyril Christian Anderson were as follows:
1.Maurine Anderson, born 29 Dec 1920 in Sigurd, Sevier, Utah, United States; died 18 Feb 1993 in Tempe, Maricopa, Arizona, United States; buried 22 Feb 1993 in Las Vegas, Clark, Nevada, United States.  She married and divorced Wayne Nuttal. Married Thomas Odis Amundsen on 3 Mar 1950 in Miles City, Custer, Montana, United States.
Children of Mary Beatrice Dastrup and Reuben Edward Black were as follows:
2. Marilyn Black, born 9 Sep 1926 in Sigurd, Sevier, Utah, United States. She married on 22 Mar 1947 Val Vardean Woodward who was born on 26 Jun 1920 in Orangeville, Emery, Utah, United States. He died on 28 Apr 1993 in Provo, Utah, Utah, United State and was buried in the Provo, Utah.
1. John Edward Black, born 12 Jan 1931 in Sigurd, Sevier, Utah, United States. He married on 26 Sep 1952 in Provo, Utah, Utah, United States Marian Faye Jensen, born 22 Aug 1933 in Lakeview, Utah, Utah, United States, daughter of James Christian Jensen and Della Scott Taylor.
Memories of Beatrice Dastrup Black by John Black
 Early Years
Mom attended the Sigurd Elementary school, graduated from Richfield High school, and attended Snow College in Ephraim, Utah for one year.
At the age of 13 she was called as organist in the Sigurd, LDS Ward. Later that year she was chosen as a teacher in the same organization. Two years later, in September of 1915, she was called as organist for the ward M.I.A.  In January 1921 she was called as organist for the South Sevier Stake Primary. From 1937 to 1944 she served as Counselor in Primary, Secretary in Primary, President of Primary, Counselor in Y.W.M.I.A, along with various other Organist callings.
When Dad, who worked at the plaster mill, and Mom got married, they purchased 50 acres of the John Dastrup Farm in Sigurd, Sevier county, Utah. This purchase included the original home built by Grandpa for his wife Minnie. The farm was on the south side of Sigurd that was known as "Bishop Town."  It was called Bishop Town because the first three bishops of the Sigurd, LDS ward lived adjacent to each other in this area. Grandpa John Dastrup was the first Bishop of the Sigurd LDS Ward and served for 26 years. He was followed by his youngest son Harvey Dastrup, mom's brother. Lamar Dastrup was next, he was the son of Jacob Dastrup, Grandpa Dastrup's brother
About 40 acres of the property was tillable and the remaining 10 was pasture. There was a flowing well that flooded much of the pasture creating a stream that emptied into the Sevier river. The flowing well was an integral part of our life. Water used for cooking and personal hygiene came from this well. There were no indoor toilet facilities. In the mid 1930's Dad installed an electric pump that pumped water to the house. He always had a couple milk cows that he milked morning and night provide the family with fresh milk and cheese; leftovers were sold to neighbors. A few head of cattle ranged in the pasture for meat and income. We raised pigs which were butchered and made into bacon, ham, and sausage. The chickens provided us with eggs and wonderful chicken dinners. The tillable land was planted with alfalfa and grain which, after feeding our animals the remainder was sold. We may not of had a lot of extra money, but we were well fed.
We always had a vegetable garden which was just outside the kitchen window. The main crops were carrots, peas, potatoes, corn, and string beans. There was wild rhubarb growing along the side of the irrigation ditch. In addition to the vegetables, there was a fruit orchard just up in the hills from Sigurd. This is where we would go to pick peaches and pears. Grandma Minnie Dastrup grew raspberries and gooseberries, which she shared with us. My favorite time was when we would drive up to Provo, Utah and pick cherries. When it came harvest time it was a sight to behold to see everyone pitch in and prepare the produce for bottling in 1quart jars. At the end of the harvest season all the shelves in the pantry were full.
Mom was a member of the Sigurd ward Relief Society and a member of their book club. She loved to read the books and give reports on them to other members. One of the books I remember members talking about was Les Miserables. It wasn't the story line that intrigued them, but the correct pronunciation of the title.
Mother worked out of the house for many years and we children learned to take care of ourselves. Breakfast was generally a General Mills cereal, my preference being Wheaties. During the week we ate a lot of fruit like peaches, pears, and apples that had been canned for our enjoyment. Weekends, when mom was home, we always had roast meat along with potatoes, gravy, and a vegetable for dinner. Water was the standard beverage. Because the garden was just adjacent to the kitchen, we would be awakened by the loud explosion of a shotgun. That sound meant that dad was up and could see a pheasant out the kitchen window. With a double barrel 12-gauge shotgun, it was impossible to miss. Us kids had the privilege of stripping the bird of its feathers and prepare it for cooking. The prepared bird provided us with a nice Sunday dinner. The only problem was when you bit down on a lead shotgun pellet which was rough on the teeth.
With only one doctor serving the entire county in the early 1930's, mom presided over the medical care for the family. Areas of treatment fell into groups; coughs, sore throats, earaches, and headaches. Coughs and sore throats were treated with Vicks ointment made by a company started in 1905.They produced cough drops and a ointment that could be rubbed on a person's chest and coved with a cloth. Earaches were treated by having the patient get in the prone position and a light bulb hung directly over the ear. The heat from the bulb offered relief. For headaches, there were aspirins.
Mom, Maurine, Marilyn, and I all attended the Sigurd Elementary school in Sigurd, Utah. Maurine and Marilyn went on to graduate from Richfield High School in Richfield, Utah. I went to Richfield Jr High school for my 7th grade before we moved to Provo.
My sister Maurine and two of her friends were inseparable. Marie Warnock, daughter of Irvin and Lexia Dastrup Warnock and Myrle Dastrup, daughter of Leland and Lulu Dastrup. They were called "The Three Graces," possibly after numerous statues and paintings by many early artists. When they reached their teens, I remember, every Saturday night they would drive down to a dance hall which was located between the bank of the Sevier river and "The Big Rock Candy Canyon" mountain resort which is located on Historic Heritage Highway 89, in Sevier County, Utah about 7 miles south of Richfield, Utah. The music was provided by a small band from the Philippines. They talked a lot about their friends in the band. They were also active in the church.
Marilyn's best friends were Lola Jensen, Shar Jorgensen, and her 2nd cousin De Reece Dastrup.  If Marilyn wasn't over to Lola's house, Lola was at or house. Both their bedroom walls were covered with pictures of movie stars. Every year mom had a big birthday party for Marilyn. I remember all the folks coming down the lane to enjoy the party. I am five years younger than Marilyn, so I was just an observer. Her cousin De Reece was her best friend and was always there if she needed anything.
My best friend, and "brother," growing up was Mack Dastrup and we were inseparable. We were 2nd cousins. John Dastrup was my grandfather and Mack's grandfather was Jacob Dastrup. From the time we were 6 or 7 years old our world consisted of working in the fields, accompanying each other to church and school, swimming together in the Sevier river in the nude, malted milk drinks, movies on the weekends, fun visits with him and Lindford while they milked the cows, and just enjoying one another.
Black Mercantile Store
In 1938 dad and mom took over the management of the Sigurd Mercantile store. Mom would take care of the store during the weekdays and dad, who kept his job at the plaster mill, would work the evening and weekend shift. Mom did everything necessary to maintain the business during the day, including pumping gas or any other task necessary to keep the business running efficiently. Dad did the same except he had the honor of being the resident meat cutter. I loved to watch him take a side of beef and produce nice cuts that looked great in the refrigerated display counter.
I liked to spend time at the store. My job was to pump gas for customers that needed it. Pumping gas was easy. Mom or Dad would simply tell me how many gallons the customer ordered I would go out and, using a hand lever on the side of the pump, move the gasoline from the storage tank into the visible gallon cylinder at the top of the pump. Once the desired number of gallons were reached a value was opened allowed the gas to be gravity feed through a hose into the customers car.
It was natural for customers to stop for gas before making the trip up the canyon to Fish Lake. Often they would  inquire where they could get some bait for fishing. When this happened, I would get a call. I would go out to the garden and start digging for worms along the bank of the irrigation ditch. The most difficult thing was to find a container to put them in, but I always managed. I would them run them down to the store. The nice thing was that I could keep the money the customer paid me.
Dad, being one quarter Indian, knew many of the Indian families who lived up the canyon on the Koosharem Indian Reservation, which was adjacent to Fish Lake resort. It was common that every Saturday a few of them would hitchhike a ride from the reservation down to the Sigurd, which was the closest grocery store. Because they could not legally buy buy alcohol, dad would sell them bottles of vanilla extract. The alcohol content in Vanilla, by law, is 35%. The Indians would go back behind the store and drink all afternoon. When the store closed dad and I would round them up and drive them back to the reservation. I always found it interesting that he knew exactly where each Indian lived and would drop them right on their front door. To me this was like a Saturday night ritual.
Parachute Plant
When World War II broke out, dad and mom left the Mercantile store. Dad left the plaster mill for various defense construction jobs as a heavy equipment operator in different parts of the western states and mom took a job as a seamstress at the parachute plant in Manti, Utah. From 1942 to 1944 she would walk down to the Sigurd Mercantile and catch a bus for Manti, Utah where on weekdays she worked the evening shift. She returned back to Sigurd about 1:00 the following morning. The plant was created by the Standard Parachute Company of San Diego in 1942. It was converted into a factory from an old armory. Workers at the plant sewed and packaged parachutes for American soldiers overseas, carefully inspecting each one to ensure its reliability.
Relocating to Provo, Utah
In 1944, towards the end of World War II, our family relocated to Provo, Utah where dad was working building Geneva Steel Plant. We moved into a basement apartment of a house on 150 South 2nd East. As vacancies occurred, we lived in the basement, the upstairs, and ended up living on the main floor. In Provo, mom worked as a cook at Woolworths lunch counter on West main Street. I got a job next door at Lewis Ladies Store where I washed windows, marked ladies clothing, swept floors, and did other odd jobs. I worked days during the summer and evenings during the school year. Marilyn, who had graduated from high school in Richfield before we moved, worked as a receptionist for Dr. Ostler, an optometrist who was originally from Richfield. I completed my eighth and ninth grades at Brigham Young High School, which was under the jurisdiction of Brigham Young University.
The Unsettled Years
In early 1947, mom bought a 50 footlong trailer house that dad and I pulled up to East Helena, Montana. We parked it just behind the home where Maurine and her first husband Wayne Nuttall lived with their two children, Sue Ellen and Barry. Our stay lasted until late summer at which time dad and I pulled the trailer house down to Richfield, Utah and parked it the driveway of Grandpa John and Minnie Dastrup's home. Not unlike the move to Montana, we were only there a short time when the trailer house was sold and we moved back to Provo, Utah in late 1947 at which time dad and mom got divorced.
Mom purchased a home at 150 South 1st West. The house was comprised of three apartments. She lived on the top floor and rented the apartment at the rear to an CPA and his wife. The front apartment was rented to an Army recruiting Sergeant and his wife.
Desk Clerk at City Center Motel
Mom got a job working as a night clerk at the City Center Motel on the corner of 3rd south and University in Provo, Utah. She worked at the motel until 1958 when she moved to Moses Lake, Washington to work as a cook in a restaurant her son-in-law Tom Amundsen, Maurine's 2nd husband, had built and were operating.
Amundsen Restaurant, Moses Lake, Washington
In 1956 Tom and Maurine Amundsen, along with their three children, Sue Ellen, Barry, and Michael moved from Bend Oregon to Moses Lake, Washington and contracted the building of a restaurant, which was named "Amundsens." It was built on a high point that overlooked Moses lake. The family bought a home two miles South of the restaurant, at the bottom of Potatoe hill, which also had a view of the lake. 
The restaurant location was on the main highway between Spokane and Seattle and was a favorite stopping place for travelers. Many customers came from Larson Air Force Base, which was a large Air Force Base that accommodated B52 bomber squadrons, it was located five miles northwest of the central business district. 
In 1953 Mom moved from Provo, Utah to Moses Lake and bought a home on the same block as the Amundsen family. She went to work in the restaurant as the pastry chef and did all the baking. 
Every Sunday a large buffet dinner with a Scandinavian flavor was served. Mom was there to help in this endeavor. State liquor laws prohibited signage on any part of a business structure that identified it as a bar or drinking establishment. Tom and Maurine did build a bar in one of the back rooms and named it the "Tom, Tom, Room." Adjacent to the main dining room, they installed an organ which every weekend night was played for the customers enjoyment. 
In the mid 50's, during the Dwight D. Eisenhower presidency, an East West interstate, along with a business loop was opened and became the main route between Spokane and Seattle. At the same time the B52 squadrons began to move away from Larson Air Force base. By 1966 the Airbase was closed and the facility was named Grant County International Airport. 
These two events were the beginning of the end for Amundsen restaurant. Due to the turndown in business, the restaurant was closed. 
Mom sold her house and moved back to Provo, Utah. She took the organ from the restaurant with her.
 Attendant at the Utah Mental Hospital
Mom moved back to Provo, Utah in 1960 and bought a house just south of Brigham Young University. Once she was settled in, she accepted a job as an attendant on the second shift at the Utah State Hospital. The hospital began as the territorial Insane asylum in 1885 at Provo, Utah. From its origin the purpose of the Hospital was to treat the mentally ill and to return them to a normal level of functioning.
One of the most difficult experiences mom ever had was at this hospital. It all happened one night while she was making rounds walking down a dimly lit hallway. As she was walking along, a patient came out of a room and attacked her with a heavy shoe. She was beat until she was nearly unconscious. It was fortunate in the commotion another attendant intervened and may have saved her life. In spite of this incident, mom always spoke very highly of the patients and her love for them.
Supervisor at Deseret Industries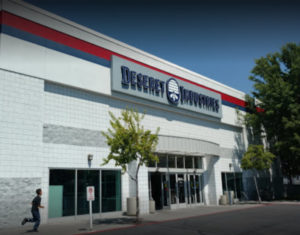 Deseret Industries is a nonprofit organization that provides work training and rehabilitation opportunities for people referred by a bishop of the LDS Church.
Mom's job was Supervisor of the Diversified craft department, which consisted of managing approximately 30 handicapped people, blind, retarded, MS in wheelchairs, ex mental patents from the state hospital. In Irvin and Lexia Warnock's Book of Remembrance mom says, "Somedays I feel I can't go on any longer and then one of the "children" will put their arms around me and say, "I love you," and I keep going.
Retirement
When mom was 74 years old, she was told by her personal doctor that it was time for her to retire.
In retirement, mom kept herself busy taking care of her home and a yard. she would say, was much larger than she needed. She said "one of my joys in life is watching things grow. I should have been the boy in the family. I feel I've inherited the love of land and growing things from my dear father."
In retirement she was called as a the Relief Society Chorister. She loved music and was active in the Singing Mothers where she had the privilege of singing at conferences and other special occasions. She belonged to the "Knowledge Seeker" Literary Federation and served one year as the president of the organization. She was also called to do special assignments, all associated with music.
One of my personal memories of mom and her love of music was a small stand that sat just to the side of the lounge chair she used to watch TV. On this stand sat a small cassette player and cassettes. Most of the tapes were recordings of the operatic tenor, Enrico Caruso. She loved to hear him sing.
Mom was fortunate to have Val and Marilyn and dad living close by over the years. Val and Marilyn especially watched over her and were there when she needed some help. Every Thursday Marilyn would pick mom up and they would go to her hair dresser. Her appearance was important to her, especially her hair. They always had her over for Sunday dinners. Although dad married twice since their divorce, he was always available to take care of any electrical, plumbing, etc.
The Loving End, by Joan Christiansen
In the spring of the final year that my husband Steve Christiansen and I attended BYU, we had the privilege of living with Grandma Beatrice Black. We knew Aunt Marilyn Woodward worked hard to help her mother, making at least two trips across town per day to assist with grandma's needs and make sure breakfast was set up for the following day. Because I had more free time during Steve's final year of BYU Law, we offered to move in with Grandma to help her, and to reduce the workload for Aunt Marilyn.
While we were in California for my summer internship, grandma's needs intensified to the point that Marilyn thought it best to place her in a care center. When we returned in August, we moved grandma back into her home. She had changed from the person she was before. She was normally talkative and cheerful, she was now quiet and seemed to have lost her interest in life and the simple pleasures of food. I remember her sitting at a meal, moving the food around on her plate without taking a bite. One beautiful warm fall day I took her to the reclining lawn chair in her back yard. I will never forget a little spider that dangled from a strand of web connected to her finger, as her hand rested on the handle of the chair. She had sat so still, so unmoving, that the little spider could weave undisturbed.
By November she was bed bound and entirely dependent on our care. Her light and zest for life was almost gone, except for one special night. We had friends over for dinner and they had a cute baby in arms. My friend went to grandma's bedside to introduce her to the baby. Grandma's face lit up, her blue eyes sparkling during that brief visit. She was so happy.
On the Monday before Thanksgiving I was raking leaves outside of grandma's bedroom window. I glanced into the window at her, and was struck by the thought that her behavior had changed. During the day as I assisted her I noticed physical signs that concerned me, so I called her doctor. He confirmed my thought that the signs meant her passing was imminent. I remember thinking that if this had to be, it was just a few days before Thanksgiving – what a perfect time for the family to gather for her memorial service.
By evening, Aunt Marilyn had joined us at Grandma's bedside. Grandma had a habit of "twirling" her thumbs: Fingers clasped, moving her thumbs over each other in a circular pattern. During those final hours she lay very still in bed, with her hands clasped, twirling her thumbs. She was watching the ceiling very intently. She would stretch her arms toward the ceiling, as if to say "take me with you" to unseen family members. She would then drop her arms and resume twirling her thumbs, as if the unseen family told her "not yet". This happened several times during those final hours. I will never forget thinking that it was strange to be in a room with others I couldn't see, but knowing they were there and feeling that it was too sacred to interrupt their communication with grandma.
In need of rest, I went to bed around midnight. Aunt Marilyn woke me about 90 minutes later to say grandma's behavior had changed yet again and she needed me with her. Grandma passed in the early hours of Tuesday, November 20, 1984.
The family was able to gather for services on Thanksgiving Day, 1984, at the Berg Mortuary. Internment was the same day in the Richfield, Sevier, Utah cemetery.