John Dastrup b 1867 and Minnie Snow Dastrup b 1869
John Dastrup was born on 18 Feb 1867 in Moroni, Sanpete, Utah. He died on 8 Feb 1946 in Richfield, Sevier, Utah. He was buried on 12 Feb 1946 in Richfield City Cemetery, Richfield, Sevier, Utah. He Married Minnie Snow, daughter of Bernard Snow and Sarah Gledhill on 20 Feb 1889 in Manti, Sanpete, Utah, Minnie was born on 22 Oct 1869 in Springville, Utah, Utah and died on 17 Sep 1952 in Richfield, Sevier, Utah. She was buried on 20 Sep 1952 in Richfield City Cemetery, Richfield, Sevier, Utah.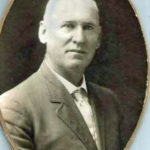 John's father, Hans Lorentz Dastrup, was born on 13 Oct 1813 in Hørsholm, Hørsholm, Frederiksborg, Denmark. He died 22 Oct 1893 in Vermillion, Sevier, Utah Territory. He was buried on 25 Oct 1893 in Sigurd Cemetery, Sigurd, Sevier, Utah. Hans married Ane Marie Olsen 26 Apr 1862 in Salt Lake City, Salt Lake, Utah. She was born 12 Nov 1839 in Løve, Holbæk, Denmark. She died on 19 Oct 1923 in Provo, Utah, Utah. She was buried on 23 Oct 1923 in Sigurd, Sevier, Utah.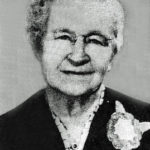 Minnie's father, Bernard Snow, was born 22 Jan 1822 in Pomfret, Windsor, Vermont, United States. He died on 22 Feb 1893 in Weiser, Washington, Idaho. He was buried on 25 Feb 1893 in Indian Valley, Adams, Idaho. Bernard married Sarah Gledhill on 27 Oct 1866 in Salt Lake City, Salt Lake, Utah. Sarah born on 31 Mar 1833 in Oldham, Lancashire, England, United Kingdom. She died on 10 Jan 1900 in Sigurd, Sevier, Utah and was buried in the Sigurd Cemetery.
Children of John and Minnie Dastrup:
Mida Dastrup Johnson 1893 – 1973
John Owen Dastrup 1898 – 1991
Mary Beatrice Dastrup Black 1902 – 1984
Reed Snow Dastrup 1904 – 1904
Richard Harvey Dastrup 1906 – 1983
The Dastrup's were early settlers of Sigurd, Sevier, Utah. As illustrated in the following exhibit they were the major property owners in early Sigurd. Dastrup descendants are still the major property owners in the area.
After spending his early years in Maroni, John moved with his father to Vermillion, Utah where as a young man served as first assistant in the Church of Jesus Christ of Latter Day Saints (Mormon) Sunday school for 20 years and 10 months from 1889 to 1905. He was chosen as first councilor to Bishop Peter Gottfredson May 22, 1887 and served eight years in this position. It was while he held this position that he married Minnie Snow in the Manti, Sanpete, Utah Mormon Temple. It was in Vermillion that their first child, Mida, was born. On 23rd February 1895 the Vermillion Ward was divided and John Dastrup was called to preside as Bishop of the south part, known as Sigurd Ward.
It was at this time that he became one of the original incorporators of the Vermillion Irrigation Co. and served as president of the company for 51 years up until his death in 1946.
Upon moving to Sigurd, John recruited workers to build a rock church for the first congregation to worship in. They were successful and, besides many renovations over the years, the original rock is still underneath the present day façade.
Along with a new church, John initiated the construction of a home for himself and Minnie, their daughter Mida, and Minnie's mother Sara Gledhill Snow.
John held the calling of Bishop of the Sigurd Ward up until he was released in January 30, 1921, after faithfully serving for 26 years. Grandpa was dedicated to his church callings, as is evidenced by the 8 years he spent as a Bishop's councilor in Vermilion and the 26 years he served in Sigurd. Combined, they account for 34 straight years in a bishopric. My mother told me not only did he tend his flock, sometimes she would see someone coming down the lane with a sheep or cow for tithing.
He was set apart as high councilor in the Sevier Stake January 30, 1921. On this same date he was called and ordained as Stake Patriarch. He gave blessing to all the young men in the Stake as they left to serve in the military during World War II. It is said that none of the young men he blessed ever become a casualty.
In 1931 Grandpa John Dastrup and Minnie purchased a small home in Richfield, Sevier, Utah. As part of this move they sold 50 acres of land, including the original home, to Reuben Black and Beatrice Dastrup Black. My sisters Marilyn and Maurine and I were raised in that Home.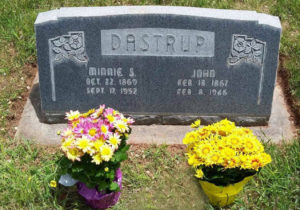 Memories of John and Minnie Dastrup by John Black (Grandson)
I was born and until I was 14 years of age raised in the house that Grandpa John built in Sigurd, Utah. When I was five years old Dr. Thomas Gledhill performed surgery on me on the kitchen table in this house, which saved my life. Dr. Gledhill was grandma Minnie's 1st cousin on her mother's side.
Grandpa John and my mother's younger brother Harvey Dastrup farmed about 300 acres of land with sugar beets, hay, and wheat being the main crops.
The fondest memories I have of Grandpa and grandma, was when there was a Sevier Stake quarterly conference. My Dad was not active in the church but on conference days we would get dressed up and he would drive Mom, myself, and my sisters to Richfield and drop us off. From grandpa's house it was only a block and a half walk to the Stake Center building. It was the greatest feeling standing by grandpa; I felt like everyone in the congregation was looking at us. When conference was over we all went to grandpa and grandma's for dinner.
Grandpa was a great farmer and grandma was a great gardener. While grandpa worked the large acreages,
grandma raised a wonderful garden with vegetables and berries. When it was time to harvest the bounty from the garden you would see stacks of bottles in and around her kitchen. My mom and aunt Mida would always show up to help her bottle the bounty and store it in her pantries for future meals.
Grandpa had no particular work hours. When I was a small child I remember him coming down our lane wearing high top rubber boots and shovel in hand to "take his turn" getting water from the irrigation canal to water the field adjacent to our house. Many times these turns would last all night and in between clearing clogged furrows and change water areas he would come in our house and catch a few winks. It always fascinated me to watch him sharpen his shovel with a file. He had the sharpest and shiniest shove blade you would ever want to see.
Grandpa did not like gophers. The irrigation water would run down their holes and create large washes if not addressed early. We had quite a few bull snakes on our property and grandpa loved them because they would eat the gophers.
When I was about eight years old I started working in the fields with Grandpa and Uncle Harvey. My work assignments were fairly easy and I was never out of grandpa or uncle Harvey's view. They always made sure what I was doing was manageable and I did not overcommitted myself. Both grandpa and Uncle Harvey helped me learn good work habits and how to work as a team member. I always knew where to go if I needed help, or advice and as a result I learned to love and respect them both.
In the early days all farm equipment was operated solely by horse power. These horses were kept at Uncle Harvey's house, which was just through the field from our house. In the summer my day would start by walking through the field and watching Grandpa and Uncle Harvey harness the horses and hook them up to the wagon we were going to use that day. I so enjoyed jumping on the wagon and riding about a mile up the road to where the major crops were. I was also glad when the day was over and we headed back to Uncle Harvey's house. I was amazed at how hard these horses worked and how they acted when they had their harnesses taken off and released to go to the pasture which was next to where we lived.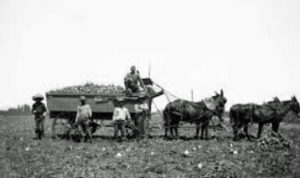 Grandpa and his brother Jacob were the part of the early farmers in the Sigurd area to grow Sugar Beets. The growing of sugar beets first came from Europe to America in the 1830's. The Mormon pioneers in Utah were among those making some of the early attempts at producing sugar from sugar beets. In early 1852 John Taylor purchased sugar manufacturing machinery in France and shipped it overland from St. Louis, Missouri, to Salt Lake City, Utah using covered wagons
Unlike many crops, there were a number of things that happened over the summer as the beet plant matures. In 1930's these processes were as follows:
• A horse drawn machine went down each row and inserted the seeds into the ground.
• The seedlings were "thinned" out by hand when they are a few inches tall.
• The plants are "blocked" using a hoe to provide adequate space between beets.
• Grown beets are pulled using a knife with hook on it and the top cut off. The average size of a beet is 2 lb and 14 inches long. The knife used was about 14 inches long with a hook on the end. Very dangerous.
• Horses pull a wagon down rows and "topped" beets were loaded on wagon.
• Wagon loaded with "topped" beets are taken to the "beet dump'.
The only part of these processes I was involved in was the thinning, blocking, and loading onto the wagon at harvest times. I was not big and strong enough to top the beets.
The rows were long and it was always very sunny and hot. I would see a rain clouds on the horizon and would watch them hoping they would come my way to cool me down.
Hay is much different from sugar beets. Once hay seeds are planted they will grown from summer to summer. The hay was cut and stacked three times each summer. Once the hay was cut, and dried, it would be loaded by a crew of about four strong men. When the wagon got back to the hay stack, using a rope arrangement anchored by grandpa and myself, another team of horses would pull the hay up to the point where grandpa and I would trip the anchor and the hay would stop rolling.
In the latter part of the 1930's Uncle Harvey purchased a Farmall tractor. This tractor was the first in Sigurd and eliminated the need for horses.
I did not have any involvement with harvesting wheat except for loading the bales of wheat onto a wagon. Processing was done by a "threshing" crew.
When I was about 12 years old I got a job working for Bill Barron, a farmer just North of Sigurd, harvesting onions, carrots, and potatoes in the fall of the year. Working for Bill Barron was the first job I ever had that I got paid for my efforts. This was during the World War II and I worked right alongside German soldiers who had been captured and were prisoners-of-war. One night I was awakened by sirens and flashing red lights. which was very unusual for a small town like Sigurd. As it turns out, one of the tower guards in the Salina, Utah prison camp had gone berserk and opened machine gun fire on the prisoners as they were sleeping, killing nine of them. It was sad knowing the day before I had been working side by side with them.
I turned 14 during the later part of World War II, Dad, who had been travelling working on defense projects sold our house and with the exception of Maurine, who had gone off to Snow College in Ephraim, Utah, we moved to Provo, Utah.
Living in Sigurd where my grandparents and uncles and aunts were just a few miles down the road and cousins lived just through the field was one of the greatest times of my life.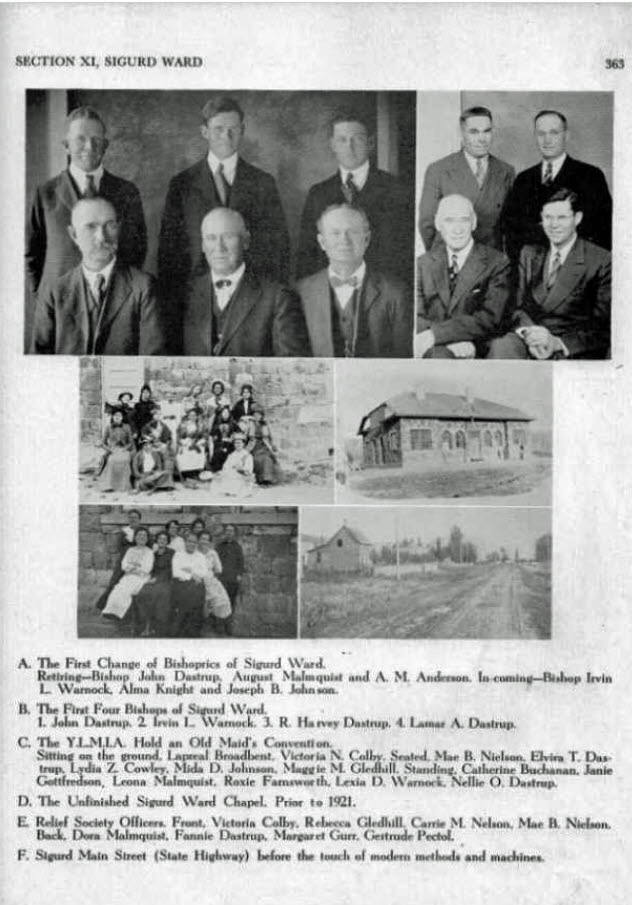 The following relationship report illustrates how you relate to grandpa and grandma Dastrup:
                               Relationship Report
                                           for
                              Jensen GARNER b.2007
                                           and
                              John DASTRUP b.1867
——————————————————————————————
John DASTRUP is the 3rd great-grandfather of Jensen GARNER.
                             Lines of Descent from
                                  John DASTRUP
—————————–  /  ————  \  —————————————
John DASTRUP b.1867
    Mary Beatrice DASTRUP b.1902                
       John Edward BLACK b.1931                           
           Anita Christine BLACK b.1953                           
               Sara Christine JENSEN b.1981                         
                    Jensen GARNER b.2007