Jane Johnston Black (1801 – 1890)
Jane Johnston Black Autobiography and Biography
Dictated in her 87th year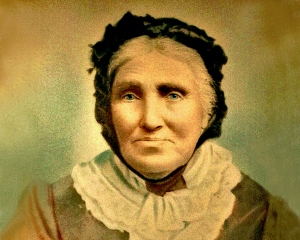 I, Jane Johnston Black, was born June 11, 1801, at Lombag, Antrim County, Ireland, the daughter of Daniel Johnston and Margaret Chambers. I lived at my father's house until I was sixteen years of age when my father died. I was then called as a local preacher on the same circuit that my father had traveled, he being a Wesleyan Methodist. I remained in that position until I was over twenty years] of age, and made William Black Sr's house my home, as he was my guardian. I lived there until my marriage to his son, William, who had been away serving as a soldier in the British Army. We were married July 31, 1822, and lived in Lisburn, Antrim County, Ireland. We had three sons and one daughter.
Moved to Manchester, England, in the year 1834 or 1835, with my husband and family. We heard of the people called Latter-day Saints and were invited to go and hear them; the meeting was held in Paul Harris' cellar. William Clayton and Joseph Fielding addressed us, which brought glad tidings and great joy to my husband and myself. We both believed, and on or about the 14th day of January, 1839, were baptized by Elder William Clayton.
Then in the year of 1840, we (mother and children) moved to Nauvoo and heard the Prophet Joseph Smith preach and I can testify that he was a prophet of God. We came to Nauvoo under the Council of the Authorities and left my husband on a two-year mission. We moved to Augusta Iowa and remained there until my husband came home. I, being a doctor and also a nurse, President Joseph Smith set me apart to deliver all expecting mothers and care for the sick and I fully did my duty. In 1844, following the martyrdom at Carthage, President Taylor, who had been seriously wounded, would not permit a doctor to see him until Jane Black arrived after the bullets were removed from his body. Mrs. Black asked him later why he had sent for her. He said, "Because I knew there was none better at such a job, and wanted you to stand at the morning of the resurrection and testify to the Lord against the assassins who murdered the Prophet and his brother Hyrum." [See Note 1 below.] We then moved to Nauvoo again and remained there until the Saints were driven from there.
My husband being in Canada at the time. I went with the Saints to Montrose Iowa across the Mississippi from Nauvoo. Before crossing the Mississippi River. A posse of the mob rode up and surrounded our wagons and demanded we give up our fire arms. I had a pistol in my bosom and I drew it out and told them 'Here is my pistol, but I will use it before I give it up.' They did not take it from me but threatened to throw me in the river that night. Then we were ferried across the Mississippi River into Iowa and remained there a short time. I buried what arms I had in a quilt in a hole under the wagon wheel. I borrowed a tent from Brother Johnston and had women that were being delivered at childbirth put in it. . I was the mid-wife, and delivered nine babies that night. [See Note 2.] We had nothing to eat but a half bushel of corn meal and a half-dozen cucumbers that were given to me by Martin Littlewood. There were a great many sick among us and nothing to comfort and nourish them but corn meal, until the Lord sent quails among us which supplied our wants. Blessed be the name of the Lord. "We had nothing to sweeten anything with until the Lord sent honey dew, which we gathered from the bushes until we had all the sweets we wanted. I also boiled maple juice and got cakes of maple sugar. While preparing to leave Montrose, I was engaged in taking up the firearms I had buried under the wagon, when the mob came and asked me what I was doing. I told them the Saints were to have power to resurrect and that was what I was doing. 'Oh,' said one, 'she is crazy,' so I saved our arms. We then moved about eight miles up the river and pitched our tents and there my husband joined us. Then the Saints moved into Winters Quarters. About a year later we settled in Silver Creek Branch, Pottawattamie, Iowa where we stayed about a year.
We started across the plains by ox teams in Captain Pace's company. "After a weary trialsome journey over 1,000 miles walking fifteen to twenty miles a day on foot to ease the load on the team, we arrived in Salt Lake Valley in 1850.
We lived there for a short time, then President Brigham Young called us to go to Spring City, Sanpete County. We remained there until 1861.Then we were called to go to St. George. Later we moved up the Virgin River to a place called Rockville, Washington County. I lived there until my husband died and was laid to rest in the Rockville Cemetery, Washington County. I lived there for many years after all my children had moved away. I felt very lonely and they wanted me to move where they lived in Deseret in Millard County, Utah. Finally I decided to go to my children so I moved to Deseret." I continued to live there until the year 1878, when feeling lonesome for my children who lived in Deseret, I was persuaded to leave my home and come and live with them, where I have lived until the present date. Feeling my health declining and being sick at the present time, my sons have been desirous that I should leave a short history of my life. But my memory has failed me in many things, so that I have not been able to give a complete account or as much as I should like to do, being in my eighty-seventh year.
Our Pioneer Heritage, Vol. 6, p.428-9.
Our Pioneer Heritage, Vol. 10, p.260 (From the diary of Joseph Smith Black, " Special Collections BYU)
NOTE 1
Note regarding Jane Johnston Black, Physician and midwife Jane was one of the best known pioneer women in the different localities in which she lived. She gained recognition for her medical services, not only in the various settlements in southern Utah, but during the period which preceded the exodus of the Saints from Nauvoo. According to family records she was called and blessed by the Prophet Joseph Smith, setting her apart to give aid to those who were ill. It is known that she gave active support to the defenders of Nauvoo during the mobbings and administered aid to the men who were injured. She was frequently the only woman on the scene of battle. As an obstetrician Jane took a leading part in giving medical assistance when nine babies were born in the midst of winter as the Saints were being forced to leave Nauvoo under mob attack.
Her records show that she delivered more than 3,000 babies. Not only was she known as a midwife, but took the place of a physician whenever needed. On one occasion she was called upon to amputate a man's leg in order to save his life. She used an ordinary butcher knife and a carpenter's saw to perform the operation. The man recovered.
After a long and eventful life, Jane Johnston Black died at the age of 89 years and was buried in Rockville, Utah.
Myrtle McDonald
Note 2.
Note verifying that Jane Johnston Black was the midwife who delivered nine babies the night of the exodus from Nauvoo. Carol Lynn Pearson, well-known LDS poetess, wrote an article in BYU Studies about the episode and tells of finding a statement of a midwife, Jane Johnston, who personally delivered nine babies on the first night in September when the so-called "poor camp" was camping across from Nauvoo. Conditions during this exodus were much different than the one seven months earlier. The Saints who had remained in Nauvoo during 1846 were mostly those who could not afford to outfit themselves for the exodus (hence the name "poor camp"), or those whose health or other conditions prevented them from traveling. But when the mobs came to Nauvoo in September 1846, they cruelly drove all the Saints from their homes regardless of condition. The account of Jane Johnston, describing conditions across the Mississippi from Nauvoo, reads: "I borrowed a tent from Brother Johnston and had women that were being delivered at childbirth put in it. I was the mid-wife, and delivered nine babies that night.
It seems much more likely that the events Eliza described occurred during this time, and the midwife's account supports this idea. Eliza mentions that she "was informed" that the nine births occurred on that first night, but she (or her informant) probably confused the date.
However, the poignancy and tenderness of Eliza Snow's description still touches the heart. The suffering of these mothers is beyond our conception, and is a tribute both to their faith in God and to their patient commitment to what they viewed to be a divine cause. (Quotes in Pearson, BYU Studies 21:4.)
References:
Wiggins, Marvin E. Mormons and Their Neighbors.
Black, Jane Johnson 1801 -.
Guide To Mormon Diaries & Autobiographies by Davis Bitton. [Provo, Utah:
Brigham Young University Press, c1977.] p.31.
Black, Jane Johnston 11 Jun 1801 -.
Our Pioneer Heritage compiled by Kate B. Carter. [Salt Lake City:
Daughters of Utah Pioneers, 1958.] v.6, p.427.
Black, Jane Johnston 11 Jun 1801 – 20 Jan 1890.
Our Pioneer Heritage compiled by Kate B. Carter. [Salt Lake City:
Daughters of Utah Pioneers, 1958.] v.10, p.259.
Black, Jane Johnson, 1801.
Autobiography (18011883).
Davis Bitton, Guide to Mormon Diaries and Autobiographies (1977), pg.31.
Autobiography (1801 – 1883).
Duplication of typescript. 4 pp. HDC.
[LDS Church Archives] (Ms d 2050, 21, 8, #4).
Father: Daniel III JOHNSTON b: 1759/1761 in Carrick-Fergus,Antrim,Irln
Mother: Margaret CHAMBERS b: 1770/1776 in Bellowskae,Belfast (Malone),Antrim,Ireland
Marriage 1 William Young BLACK b: 20 AUG 1784 in Lisburn,Antrim,Ireland
Married: 31 JUL 1822 in Lisburn,Antrim,Ireland
Divorced: N
Sealing Spouse: 17 JAN 1846 in Nauvoo, Illinois
Children of William Young Black and Jane Johnston:
George BLACK b: 6 MAY 1823 in Lisburn,Antrim,Ireland
Ann BLACK b: 25 APR 1825 in Lidburn,Antrim,Ireland
William Valentine Sr BLACK b: 21 FEB 1832 in Lisburn,Antrim,Ireland
Joseph Smith BLACK b: 14 JUL 1836 in Lisburn,Antrim,Ireland
In Nauvoo, Illinois, along Parley Street, also known as the "Trail of Hope" there are a series of plaques dedicated to saints who lined their wagons and possessions up in preparation for crossing the Mississippi river.
Two of these plaques are dedicated to Jane Johnson Black.
The first reads:
I was the mid-wife, and delivered nine babies that night.  Jane Johnston
The second plaque reads: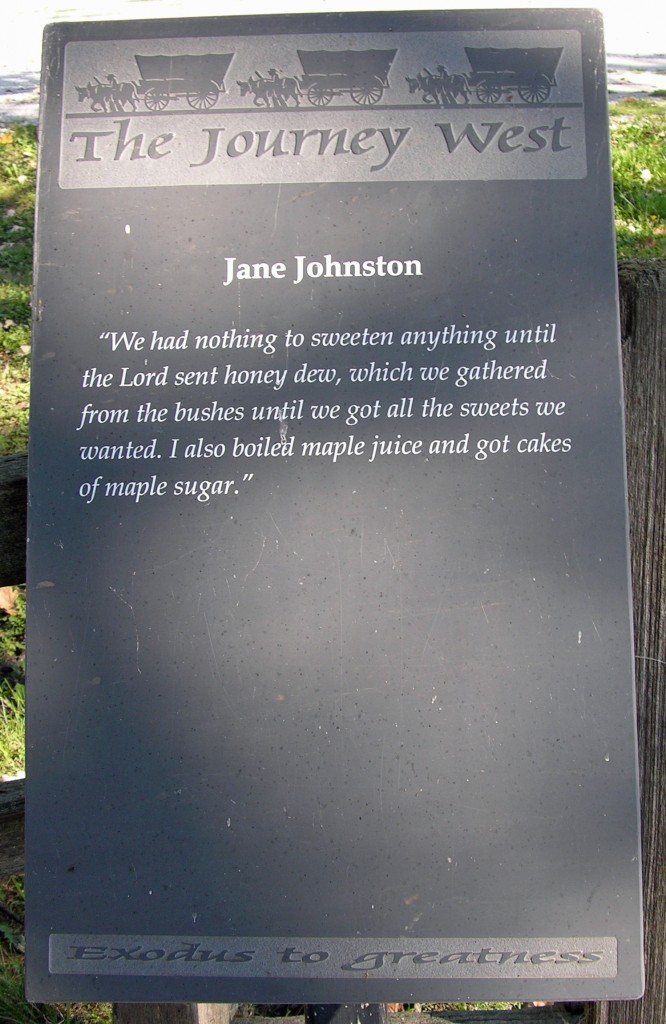 We had nothing to sweeten anything until the Lord sent honey dew, which we gathered from the bushes until we got all the sweets we wanted.  I also boiled maple juice and got cakes of maple sugar.  Jane Johnson
Jane Johnston Black – Coming to America