Growing up in Sigurd, Utah – Health Care 1900-1945
Growing up in Sigurd Utah meant that you were pretty well on your own when it comes to medical care. There were only a few doctors and no hospital until the beginning of World War II. Most medical treatments took place in your home using hand me down remedies. Drug store products were very basic and did not reflect the new medical advances. If the illness, or accident, was serious enough, you called the doctor who would come to your house.
As medical research uncovered new ways of dealing with sickness and disease, medicine became increasingly complex. By 1930, physicians had to understand a huge range of techniques, treatments, drugs, and ailments. Specialist clinics and hospitals sprang up, and the cost of treatment rose sharply. The "Sulpha" drugs, along with others, come into being but because of their misuse often cost more lives than they saved. Rural doctors could not leave and go away for years to train as specialist so nothing changed in until after World War II new generations of doctors started to appear.
The first doctor in Richfield Utah was Dr. Thomas Gledhill. He started his practice in 1900 and made house calls throughout Sevier and Wayne County. In the early days before the automobile he used a horse and buggy for transportation. He was the sixth person in Sevier County to have an automobile. The second doctor to practice in Richfield was Dr. R. Garn Clark. He only practiced a short time. In 1924 he sold his practice and joined his bothers to form the Clark Clinic in Provo, Utah. The third doctor was Dr John Ray McQuarrie who purchased Dr. Clark's practice in 1924.
Dr. Thomas Gledhill
Thomas Ray Gledhill  is my first cousin two times removed. He was born 1883 in Mt Pleasant, Sanpete, Utah. His parents were Thomas Gledhill and Lily Ivie, who had emigrated from England.  He married Rebecca May Eames Following are excerpts from Thomas Gledhill's biography dated 2 April, 1931 "My parents moved to Vermillion, Sevier County, Utah, where I lived and grew to manhood. The first ten years of our time there we lived on a farm at the foot of the large dark volcanic mountain, just one mile north of the Rocky Ford Dam in Sevier River. For about ten years we lived in a one room log house, 28 by 40 feet. Here four of my brothers were born. The room was petitioned off into bed rooms with calico. We soon outgrew this house and built a nice three roomed family house and used the old one for a granary."
Thomas worked many jobs and suffered many hardships growing up. Over time he saved enough money to attend the LDS College. In his biography he writes "I had saved $75.00 the two months and to show how unwilling I was to spend it for anything except for an education, I walked thirty miles over the Mountain to Mt. Pleasant alone to save Railroad fare. Took the train to Salina, Utah and from there I walked another ten miles home because I was so homesick for my family.
My father went with me to Salt Lake City and we tried to find work for me to do for my board. For three days we looked everywhere, but were unsuccessful. Father said to me: "You'd better go home and give it up." His ticket was up and he had to return home, so he left me alone to continue my search. To fortify my courage and burn my bridges I went the next morning to the L.D.S. College and asked the price of their courses. They said they were from $10.00 to $40.00 year. I took the forty dollar course. I paid this out of my seventy-five dollars before I even had a place to stay. Two days later I found a job three miles west of the city. I milked twelve cows at night and six in the morning for my board. I rode a bicycle to school and also drove a horse and buggy. I was delighted and happy. A better and closer job was secured after two months. I did chores at Nephi L. Clayton's place just three blocks from the school. Here, I lived in a barn and ate my meals out in the outer kitchen, but they were kind to me and I only had to tend the furnace and tend for a cow and two horses. They gave me old clothes and shoes which I wore in place of my old and shabby ones and I sent a sack or two home to the folks."
"The idea of being a Doctor came to me gradually. First my grandfather, Col. John J. Ivie, whom I dearly loved, was a bone setter and wanted to be a Doctor himself and said he would be one if he were me. Then as I thought of all the things I could do, nothing I could do other than this would render more services to mankind. I then felt that my nature was a sympathetic and helpful nature that would fit me in a measure, to render comfort and strengthen those in distress. I did not know or see how I could accomplish my ambition, but finally I made up my mind that God had always helped me. At the end of my second year at the L.D.S. College I had decided to become an M.D. with God's help."
After graduating from the LDS College, Thomas met Rebecca May Eames. They married and moved to Chicago where he attended Northwestern University Medical School.
"I started to practice my chosen profession in Richfield on July 3, 1900. I have been there ever since with the exception of two three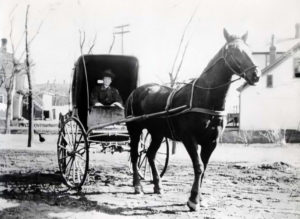 months periods spent in the east and three weeks in the West doing post graduate work. I have met, personally, most of the big medical and surgical men in the U. S. and a few from Europe. Locally I have been County Physician since 1909, almost half of that time City Physician. I was one of the first doctors in the State to operate lights and electricity treatments. I was one of the three who drafted the constitution and by-laws for the first body of Doctors in this State to use and advocate physiological measures other than medicine and surgery. I read a paper before its first meeting on the value of electrocoagulation of disease tissue. I was the first charter member and the first President of Center Utah Medical Society. I was the D. & R. G. W. R. R. Surgeon and War Veteran's Bureau Examiner during and since the war. As I recall I had about the sixth automobile in this valley, but not until I had driven a horse and buggy all over the valley and mountains for several years and tussled through storms and snow-bound lands at all hours of the night. I have made many a trip which endangered my health and life when I knew there was no financial reward, but I have felt sure God would bless me, and he has abundantly done so."
Dr. R Garn Clark
Dr Clark was born and raised in Panguitch Utah. His first medical practice was in Richfield, Utah. In 1924 He sold his practice to Dr John Gray McQuarrie and moved to Provo, Utah. He practiced medicine in Provo for 50 years, He and his brothers, Dr. J. Cecil Clark and Dr. Eldon Clark, participated in establishing Utah Valley Hospital in Provo.
Dr. John Ray McQuarrie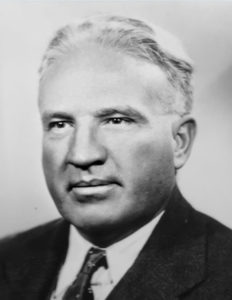 Dr. McQuarrie was the third doctor to practice in Richfield. He was born in Kanab, Kane, Utah in 1889 and married Ibby LoRetta Smith in 1924. He died 1959 and is buried in the Richfield cemetery.
From his biography he writes "July 1, 1919 I started practice as full time physician and surgeon for the Emporium Department Store in San Francisco. The salary seemed adequate to me at the time ($2500 per year). I was allowed to see private patients, mostly the families of employees, during less busy afternoon hours. This gave me a nucleus of patients and families which I attended when, after two years, I went on part time at the store and opened office practice. The store experience was valuable by giving me a chance to see 20 to 40 patients a day and gleaning out of them 1-2 surgical cases a week. I had surgical privileges at four large hospitals and got experience that would have taken years. An older part-time doctor was also employed by the store. We worked independently except an occasional surgery."
"1923 – In late summer I learned through Dad that Dr. R. Garn Clark was leaving Richfield and wanted to sell his practice and equipment. We agreed to terms and I came to Richfield in September 1923. Dr. Clark had some affairs to wind up so we worked together until the end of October when I took over with the advantage of a wide introduction by Dr. Clark. I had a starting list of maternity and other cases. One of the first surgical cases I did was a mastoid on a boy with whom Dr. Clark had been working for a month with no results. This was the first mastoid surgery ever done here.
"My practice and income grew steadily as shown by records elsewhere in this book, but it took lots of work of body and brain. Regular sleep became a dream of the past."
Richfield Hospital
In 1941, a hospital was established on the corner of 100 North and Main Street in downtown, Richfield, Utah. The hospital was moved five years later to an 18-bed facility at 201 East 500 North. In 1959, the Catholic Church purchased the hospital and the changed the name to St. Michael's Hospital. It was operated by Catholic nuns from St. Benedict's Hospital in Ogden, Utah.
In 1962, Sevier County purchased the hospital, and it was managed by The Church of Jesus Christ of Latter-day Saints. The name was changed to Sevier Valley LDS Church Hospital. When the Church made the decision to donate all of their hospitals to the public in 1975, Intermountain Healthcare, Inc. was created as a not-for-profit organization and assumed management of Sevier Valley Hospital, formerly Sevier Valley Medical Center, in addition to the other hospitals across Utah.
Personal Experiences
Because I knew both Dr Gledhill and Dr Mcquarrie personally, I would like to share some of the personal experiences I had with them.
Dr Gledhill is the son of my great grandmother Sara Gledhill's bother's son. He is the Doctor that delivered me. I was born in the house grandpa John Dastrup built in Sigurd. When I was about five years old I got pneumonia and Dr Gledhill was called. His examination revealed I had fluid in my lung cavity. The idea of draining substances from the thoracic (lung) cavity has been documented for thousands of years but was still a primitive procedure during the 1930's. Dr Gledhill decided to perform surgery and, with the assistance of my mom, placed me on the kitchen table. After sterilizing the basic tools he rendered me unconscious with a rag permeated with ether. After making a long incision just under my right arm he inserted a glass tube into my lung cavity. After he made enough stitches to hold the tube in, it was left for a number of days to drain into a container. When the glass tube was finally removed it was put in boiling water to sterilize and I used it as a straw to drink my milk for some time. Doctors that have examined me over the years recognize the three inch scar and know what caused it. They all told me that very few people survived such a primitive operation and that I had been blessed.
The same year I had pneumonia, my mother and her sister's son, Joseph Hugh Johnson, also got pneumonia. Mom survived, but Hugh Died at the age of 20.
In the 1930's it was a standard practice to have your tonsils removed when you were eight years old. Being a conformist, dad dropped mom and me off at Dr Gledhill's office where he removed my Tonsils. After a couple hours dad picked us up and took us back to Sigurd. Recuperation consisted of eating or drinking Jello over a few days.
Dr McQuarrie and John and Minnie Dastrup were neighbors and good friends. They lived three houses apart. Their son Don and I were also good friends. We attended the seventh grade together at Richfield Jr. High School. Don went on to become a doctor and was a Professor of Surgery at the University of Minnesota for 37 years. He died in 2007.