Abby Jane Weldon b 1811 and George Humphreys Roe b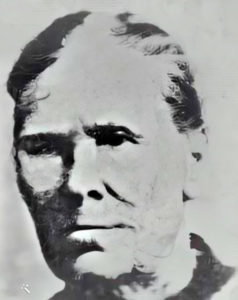 Abbey Jane WELDON was born on 7 Nov 1811 in Philadelphia, Philadelphia, Pennsylvania, United States. She died on 17 Sep 1888 in Provo, Utah, Utah, United States. She was buried in Sep 1888 in Provo City Cemetery, Provo, Utah, Utah, United States.
George Humphreys ROE was born on 5 Feb 1794 in Kingsessing, Philadelphia, Pennsylvania, United States. He was christened on 16 Aug 1809 in Philadelphia, Philadelphia, Pennsylvania, United States. He died on 2 Feb 1844 in Philadelphia, Philadelphia, Pennsylvania, United States. He was buried on 2 Feb 1844 in Philadelphia, Philadelphia, Pennsylvania, United States. George married (MRIN:90) Abbey Jane WELDON about 1831 in Philadelphia, Philadelphia, Pennsylvania, United States.
Abby Jane Weldon Roe, or Grandmother Humphreys as she was familiarly known, was born in Philadelphia, PA, November 7, 1809, the daughter of John and Esther Robinson Weldon. In 1831, a year after the LDS Church was organized, she was married to George Humphreys Roe who had also been born in Philadelphia, PA, on February 6, 1793, the son of Mary Morris and Elias Humphreys Roe.
According to records, George Humphreys Roe had formerly been married to one Sarah Porch and to this couple was born six children, all having been born in the city of Philadelphia. Records of Uncle Walter Scott state that Abby Jane Weldon had been married previously, probably to a man named Joseph Knight. George Humphreys Roe was a carpenter and ship builder by trade and the home of this couple in the Friendly City was always an abiding place for the missionaries of the LDS Church, as they were among the first there to accept the message of the Gospel. Jedidiah M. Grant made his home with them whenever he was in that part of the missions. The Roes were baptized in the year 1843 and their earnest desire was to cross the plains and they made plans for their departure west, but before this could be accomplished, George died, leaving Abby Jane in poor circumstances financially, and with two small children, Sarah Ann and George Washington to raise.
Tragedy had stalked the family, for the couple had suffered the loss of seven children in death. Very little had been known of this part of Abby Jane's history so I quote from a letter written by Lois Wickers to Ramona F. Cottam concerning Grandmother Humphreys. Mrs. Wickers wrote: "I went to visit Aunt Francelle Sorensen, or Aunt Sis as we called her, and all this data about the seven babies she had lost, Aunt Sis told me. The last mention of George Washington Roe was that he was in South America and that he probably died there, or he was there when they last heard of him. My only proof of the fact is that Aunt Sis knew her and that this was the information that Grandma had told her. Aunt Sis went in and got a little piece of writing paper on which was the record of the family written in pencil. She said, 'This is all I have' and there it was some birth dates of her mother, father and some of their children." Only Sarah Ann and George Washington lived to maturity.
Undaunted, the widowed mother toiled night and day to gather enough money to outfit her family with a team of oxen and wagon for the purpose of emigrating to Utah. This was the most terrific struggle for a lone woman. Her son George did not come west with his mother and sister, but chose to stay and work as a ship builder in the Philadelphia shipyards, a trade he had learned from his father.
Before leaving Philadelphia, Abby Jane auctioned off a cupboard filled with lovely china. Not wishing to part with all of it, she wrapped two beautiful pitchers in flannel petticoats and tucked them among her meager belongings which she brought to Utah with her. These pitchers are delft blue with embossed white figures encircling the top and the bowl. The mouths of the pitchers are finished in dull gold. She gave them to her grand-daughter and namesake, Abby Jane Scott Taylor and upon her death. They were given to a great-granddaughter, Mary Taylor Dahlquist who still had one pitcher in her possession. It is now owned by Mary Dahlquist Gunn. The other pitcher belongs to Marjorie Johnson Snow, who received it upon the death of her mother, another great-granddaughter, Ruth Taylor Johnson.
Nothing daunting her desire to join an emigrant  train. She started the journey West with Sarah Ann, who was 18 years of age, and an acquaintance of Sara Ann's by the name of Andrew Hunter Scott, who was also heading west with his two young sons George and Hyrum. This young man was also from Pennsylvania. His wife, upon finding that he had joined the LDS Church and intended on going to Zion, took her two young daughters, sold all they had and left him with the two young boys. He was full of faith and courage, but he never saw his daughters again, although as time went on, his wife wrote letters of remorse and asked his forgiveness, but she neve-r came west.
When the Saints were camped on the river, a companionship developed between the two lonely families and it was here that Andrew Hunter Scott and Sarah Ann Roe were married on January 12, 1851 and as one family, again began the long trek west. Many hardships were encountered: sickness, hunger and death overtook them. At one place cholera broke out and many of their number were buried at Sweetwater, Wyoming.
They arrived at the valley of the Great Salt Lake in 1851 where they started clearing sage brush for a home site. Great-grandmother worked in the homes of many of the Church leaders, Heber C. Kimball, Orrin Porter Rockwell and others helping to maintain her family, but before a house was completed by her son-in-law, Andrew Hunter Scott, he was called by Brigham Young to go to Provo to superintend the building of the Provo Woolen Mills. He labored long and hard to see the work move along. I have often heard my mother tell of his remaining all night long with the men upon many occasions in order to see that all went right. He had nothing to eat at these times but a pocketful of parched corn. He took up a large tract of land in the southwest part of Provo Township and here they planted the first flax in Utah, also a vast orchard of fruit trees as well as mulberry trees for the raising of silk worms.
Abby Jane worked side by side with her son-in-law and helped in the building of an adobe house. Tragedy struck the little family when Hyrum, the younger of the two little boys took sick with fever and died. A casket was made from the trunk of the tree and the father, Andrew Hunter Scott, carried the little corpse to the foothill for burial as water was rising on the lower lands. Indian troubles confronted them, and many times they fed the Redman rather than have trouble with them.
Abby Jane continued her service and work in the homes of the Church leaders in Salt Lake City, going back and forth on foot many times, taking dried fruit in exchange for linsey, sugar and such things as were obtainable and were necessary for the family. On one occasion as she was coming home from Salt Lake, she met Old Squash Head, an Indian Chief, on Provo Bench. This old Indian was much feared by the people in the vicinity. With him were two other braves and they stopped and drove their ponies across the narrow road to prevent her from passing. She stopped, unafraid, shaking her fist in the face of the Indians and she thus passed them unmolested. She knew no fear for at one time when living in the small adobe room on the Thomas Allen lot where she had a flock of turkeys, she was awakened one night by a disturbance among the turkeys, so she took a gun and went into the yard where she found a porcupine. She killed it and went back to bed.
When the narrow gauge railroad was being built up through Echo Canyon to Coalville and Wanship, she went to cook for the construction crew. Among the men who ate at her table was an expert woodsman and he made her a small box of very delicate workmanship. She later gave it to Uncle Howard. Death came to this noble pioneer on September 17, 1888. Since the time she had left him in Philadelphia, she had never seen her son George Washington Roe. There are two stories concerning him, both being very interesting. The first as told by Lois Wickers states that he went to South America and probably ended his days there. The other was told me by Uncle Howard Scott. He stated that many anxious moments were spent by this pioneer mother wondering about her boy. He said he remembered her receiving a clipping from a friend in Philadelphia which had been taken from a newspaper. This clipping told of a group of shipbuilders who had entered Philadelphia harbor in order to repair a floundering ship. Tragedy overtook this party and they were marooned from the mainland. In order to survive, some of the group was forced to resort to cannibalism. None survived. George Washington Roe was reported to have been among these men. Abby Jane Weldon Roe was a soul imbued with a colossal amount of faith, strength, determination and integrity to a great cause to which she had dedicated her life. I am indebted to Uncle Howard Scott for the bit of information we have concerning this woman. Just the day prior to the sickness which took speech from him, he had called me to impart this desired information, and I am sure had he been allowed more time, we would have known more about her.
Note: This history was written by Mary Taylor Dahlquist, August 1952 and printed in the Andrew Hunter Scott Bulletin, Vol. 2, Issue 1, February 1968.