Reuben Edward Black
Reuben Edward Black, born 25 Mar 1901 in Lehi, Maricopa, Arizona, United States; died 9 Jan 1981 in American Fork, Utah, Utah, United States; buried 13 Jan 1981 in American Fork, Utah, Utah, United States, son of  Nephi James Black and Phoebe Lorraine Harrop. He married Thelma Iona June Parker. Divorced Thelma Iona Parker. Married Mary Beatrice Black on 27 Sep 1924 in Junction, Piute, Utah, United States. Mary Beatrice Dastrup, born 14 May 1902 in Sigurd, Sevier, Utah, United States; died 20 Nov 1984 in Provo, Utah, Utah, United States; buried 24 Nov 1984 in Richfield, Sevier, Utah, United States, daughter of John Dastrup and Minnie Snow. Married Mary Richards. Divorced Mary Richards. Married Beatrice Froughton.
Children of Reuben Edward Black and Thelma Iona June Parker were as follows:
Elaine Black.
Children of Reuben Edward Black and Mary Beatrice Dastrup were as follows:
John Edward Black, born 12 Jan 1931 in Sigurd, Sevier, Utah, United States. He married on 26 Sep 1952 in Provo, Utah, Utah, United States Marian Faye Jensen, born 22 Aug 1933 in Lakeview, Utah, Utah, United States, daughter of James Christian Jensen and Della Scott Taylor.

Marilyn Black, born 9 Sep 1926 in Sigurd, Sevier, Utah, United States. She married on 22 Mar 1947 Val Vardean Woodward.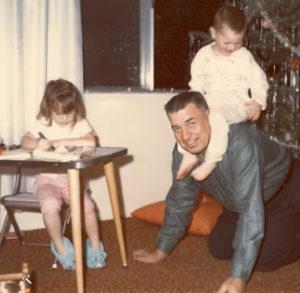 Reuben was born in Lehi (Mesa),Arizona. When he was a young man his family moved to Antimony, Utah. In his early years he would catch the train at Marysvale, which was the end of the line from Salt Lake. He fell in with the hobos        said he His first job was going door to door selling Maytag washing machines. He later got a job with U.S. Gypsum in Sigurd, Utah. He started out by breaking gypsum rock with a sledge hammer and progressed to a truck driver. His next move was to observe and understand how to operate the heavy duty shovel used to dig gypsum. During this same time he and his wife, Beatrice,Dastrup Black  took over operation of the Mercantile in Sigurd, Utah.  Beatrice was the only clerk on the day shift and Reuben, in addition to his full time job, would take care of the store nights and weekends. When World War II broke out he left the gypsum plant and applied for a crane operator, and was accepted to work as an Operating Engineer building the Tooele Army Depot Base in Tooele, Utah. Once that job was over he went to Hanford Washington to build the nuclear production complex. Upon completion of the nuclear facility, he took a job as crane operator building the Geneva Steel plant Provo, Utah. Once the Geneva plant was finished he worked as a Operating Engineer doing projects assigned by the Union until he retired.
REUBEN BLACK
By Teddy B. Parker
Uncle Rueben Black, a younger brother to mother, Pearl Parker, was born in Lehi, Arizona. Mother, being just older and married first, seemed to be Rueben's counselor in his early years. I remember coming into the house and see them talking and they would immediately stop talking.
One of the first things I remember about him was that Rueben would have Sherman stand on his hand. His hand would be on the table and then he would have Sherman stand on his hand. Then he would raise his arm out straight from his shoulder, all the time saying stand steadily. By then Sherms head was near the ceiling. (The room was not the low ceiling as it is today in 1980.) After fathers death we cleaned out the house, Sherman still remembers this. So he was not just a baby. This would require considerable strength to hold him steady enough that Sherman could stand on his hand.
On a cold day, Rueben came and mother really bundled us up. We rode to Nephi to pick up my Grandmother Black, who was returning from Arizona. Sherman, like me, remembers the deep snow along the side of the road. As Richfield seldom gets as much snow as the north or south of Richfield (I might add that Rich­field was a winter campground for the Indians before the settlers took over. Many artifacts showed up around the area in my youth. I still know where some Indians were buried. I remember being taken there soon after the graves were robbed.) Therefore, a foot or so of snow would look like a lot to us. I do not remember much of the trip home. Sherman also remembers this trip. Might also add that cars did not have heaters in them in those days.
About this time also, he would take us to Antimony where he sold washing machines. I remember Maytags run by a smoky gas engine. He, no doubt, sold other things also. Anyway, he must have gone there a lot. I remember, he stopped and showed us the fish side by side just below the dam near the waters edge or where the water was moving slowly. Their backs just breaking the waters surface. You sure do not see them that way anymore.
The last trip we went on with him was while he was living in Sigurd, just before we went into the Army, which would be the late thirties. I will relate this experience later.
When we got old enough, he began to teach us how to drive a car. He didn't always have a car and when we did it was a Model T Ford. Rueben always had a car that was better than anything we had. Sometimes we each got a chance to drive and naturally mother was worried as she never drove a car. Thus nearly always he would take mother certain places or he would just take mother with him as mother liked to go.
One time, and not too long before we went into the Army, we came home to find mother in great distress. Her one knee was scraped to the bone. Then she told us this story. Rueben was going to Elsinore for what reason I do not remember for his or mothers errands. Anyway, he had a 1935 or 37 two door Chevrolet, which he bought new. The wind was blowing leaves along the ground, which would indicate fall, Mother said she looked down and saw leaves standing stil1. She opened the door and stepped out and never let go of the door. Thus the car dragged her knees in the gravel until Rueben could stop. Seems she never looked at anything but the leaves. They were traveling at the same rate as the car. After that, she made sure the car was stopped. She said it was her own fault and stupidity. Probably she was in a hurry for some reason.
The last trip we went with Rueben was to Antimony. It was during deer season and we were in the two door Chevrolet. He came and wanted Garn and I to go with him. We were going to hunt deer down and back. We went down by way of Burrville and Koosharem, now numbered road #62. Hunting all the way, which meant one looking and one driving, seldom going much over forty miles per hour and mostly going under that speed. About the time we got near the Otter Creek Lake, the road appeared level in the distance, but there were deep washes with no bridges. The road went simply down in and out again. The drop down was quick at the point, before the front wheels started down, there was an instant when there was nothing in front of the car, much like dropping off the edge of a cliff. Rueben knew this, but started to change his clothes in the front seat with me driving. Looking for the shoes, etc. on the floor of the car, he looked up just in time to see nothing then he felt it start to fall. He really yelled with fright. He thought I had driven off the road. Of course, he then saw it was another wash. He talked about that for a long time. He took care of his business while we sat in the car. We came back by Kingston, Junction and Marysville. In the Sevier Canyon, not too far from the Big Rock Candy Place, the sun was shining only on the peaks. The bottom was getting rather dim for light. We spotted a deer across the river. We stopped and started to shoot, all three of us, Bang! Bang! Bang! When we stopped, there was a trail of shining brass but no deer. He went on his way out of sight. We drove on and marveled how three of us could shoot so much and miss the deer. I don't think we scratched him, he showed no signs. I went by there later, stopped and studied the event. We were only a few feet from the river edge, say ten feet, and the river would not be more than twenty and the deer was near the waters edge. Only then did I realize that it was darker than we thought, so the deer appeared farther away than he was which made our shooting even worse.
Another time, he came and wanted us to go with him deer hunting. We got our guns in the car and we started off, this was after ten oclock in the morning. A time when no self-respecting hunter would leave to go deer hunting. He took us to Sigurd, then up the road going to fish lake. About five miles from Sigurd he turned east up a small but well traveled road. There were cars all over the place. People getting ready to eat lunch. The road or branch we were on ended and we got out and started to walk up the draw. We soon came to a ridge with the water drainage going north instead of south. We were less than a city block from the car. I sat down and Garn started east up the ridge we were on and Rueben started down going north. Well not more than twenty steps from me, he shot up. I came to find him shooting at a big buck with each shot hitting the earth behind the deer, thus driving him nearer to us. Then the trees hid the deer. He appeared to be between us and where we knew Garn was, so we held our fire, I laid on the ground and aimed at a point ahead of him and where he would again come in the clear. The deer stopped right under my sights. I fired and down came the deer. I heard Rueben extracting an empty shell. He was to my right and behind me. We both fired so near the same time that neither one of us knew the other had fired. There was only one hole in the deer. The deer was over four hundred yards away from us and only a little distance above where the car was. We three went down and cleaned the deer and was back in Sigurd by two in the afternoon. As we came out to the highway, those who saw us go up could not believe we could get a deer so quick. Rueben sure enjoyed that hunt and we took the deer to his home and skinned it. (I believe) It was not a record size but it was a large deer.
Before this happened, several years earlier, possibly in the early thirties, Rueben and I were near the Belnap ranger station walking along the road. I was carrying granddad1s old 38-40 Winchester. There were several large calves feeding off the edge of the road. Rueben pointed to one and said I would sure like to have that one. Before he knew it, I shot it and there it was. We cleaned it and he loaded it up and took it home. There was no thought of wasting the meat or anything. But every time he would think of it, he would shake his head and say what a foolish thing to do. He even commented about it a year later. I tell you this to show idle thoughts can and do lead to rash actions. It happens so fast. Satan is right there to help.
While on the subject, the forest ranger, justice of the peace and I believe a game warden, (I am not sure about the third person but all three were officers.) were riding with dad in a car. They knowing dad was a good marksman coaxed him into taking shot at a deer out of season. They were sure the deer was too far away to hit with a 45 colt pistol. Finally dad poked the gun out the window and shot, down came the deer. The three were then obligated to clean the deer. I have watched others do foolish things because of idle thoughts.
Another story of mothers, about Rueben, possibly before he was married the first time. Mother was getting dinner ready for Dad and Rueben and another man. They were hauling hay from the south field about a mile from home. The men knew mother was serving a cake for dinner. On their way in, Rueben jumped off the wagon load of hay, about a block and a half away, and ran to the house. He bolted through the door and asked mother for his piece of cake quick. If I remember right, he got most of it eaten before they followed him in. They had been telling dirty stories, the type about maggots, and the like, so Rueben could not eat his cake. They had discovered Rueben had a tender stomach, as mother put it.
About the time I entered Junior High, Rueben worked at a hardware store in Richfield. Later dad tore the old building down and we pulled nails forever. It was located what was then the north end of business district, on the east side of the road, if I remember correctly. Then he worked in the Sigurd Merc. and also at Gyp Plant, mostly there. There were few jobs in those days and lots of men. There was lots of everything but no money to buy. Gilbert sold a horse for twenty-five cents one day and gave the man the rope too. One could get the best laborers for less than two dollars a day. Or a long day for the two dollars.
Rueben was always trading; he was pretty good at it. He stored two trucks in dads corral for some time. He sold dad a cream separator, it could be the one we have now. I have a log chain that dad got from Rueben. Garn and I bought our first gun, a 22 Winchester pump from him. He milked cows and raised calves. We would help him milk the cows and he enjoyed watching us get thrown off his calves. He would send us down near the river to hunt ducks but we were poor duck hunters. As he was the only one who milked the cows, they were sort of wild when we went in the corral. I am sure it cost him milk to have us down in the corral helping milk even though both Garn and I were experienced milkers. He would get the job done then we would go back to the house and listen to the radio which was a big thing in those days.
We were there when Orson Wells had the invasion from other planets. Many like us came in late and was really shook up. Garn belonged to the Guard and he was getting ready to report in when they ended the program and told that it was a story by Wells.
Back to Belnap again, in the early thirties. Must have been in the fall possibly the deer hunt, at least after school started: as the ranger had moved to town. Ruben came up and drove his car in the garage which was tight in those days. There was a door that led into the shop, through the shop and out toward the house. All the men were in the house deciding who should sleep here. It became dark and Rueben was assigned to sleep with me in the shop. All the men came from the house to the shop and went through the door; there was next to the door a screened box with rattlesnakes in it, which the ranger kept. As Ruben followed me through the door rattled a little, he said, what was that? I said a rattlesnake in the box right there. At least one would rattle every time someone stepped through the door. I went to bed and was soon asleep. The last I remembered was that he was sitting on the edge of the bed. Morning came, I was alone. I got dressed and went into the house and looked in every room, no Rueben. No one had seen him. Puzzled, I went back to the shop, he was not there either. Whi1e standing in the door, by the rattlers, I noticed the door to the garage on the opposite side wasclosed. It was never closed. I went over and opened it and the big door was also closed. Then I looked in his car. There he was asleep in the back seat of his car with the car doors locked and windows up.
This story he tells on himself. He operated the power shovel at the quarry loading the trucks. At noon, he would step over the digging by a large rock and eat his lunch and then have a snooze. The other men killed a large rattler, removed his rattle and tied a string to it. The other end they tied to a long slender pole like a fishing pole. They waited until he was asleep and hung the rattler in front of his face and shook it. He says I woke up running down the hill.
John – I have asked Sherman and Dona V about this. when they see this history I have written maybe they will come up with more. This I have written because it was more deeply imprinted in my mind.
My Dad, Reuben Black loved the Parker boys, I was with him when we went to the armory to see them off to the Second World War. They all came home after spending most of World War II overseas. Tragically Garn was killed in a motorcycle crash the first week he was home. Teddy passed away in 2010 at the age of 96.
John Edward Black
My Memories of Grandpa Reuben Black
Catherine Bergen
It is unfortunate that I don't have as many specific stories to tell of Grandpa Black as I do of Grandma, though he was definitely present in our family, and I loved him very much.
I only remember as a child going to Grandpa's home in Provo once. In my memory we went up a flight of stairs in a house to his rooms. I remember one room, which was kind of dark, with a window. The room seems like it was slightly cluttered, but the only piece of furniture that stands out in my memory is a desk. He took us to the desk and opened a drawer, which had lots of coins in it, but I don't recall how or if they were organized. At any rate, he chose a coin to give to each of us. Or maybe he let us choose. He used to give us coins on occasion. They were usually half dollars or even silver dollars– special coins. I have always had the notion that he collected old coins, and I'd love to see his collection now.
Grandpa used to come eat breakfast at Grandma Black's house. They seemed like good friends. They talked and laughed.
I remember Grandpa visiting us in Pocatello. He drove an older model car, and it smelled kind of like old car or old man to me. He kept treats in the glove compartment, which we called a 'jockey box.'  I don't know why we called it that. My sisters say that he always kept a picnic of Vienna sausages and pork and beans in his trunk. I don't specifically remember that, but I remember him eating candy.
Grandpa used to like to go fishing, but I don't remember him actually fishing. I do remember my brother, J.D. (we called him David in those days) fishing and Grandpa sitting in a folding chair in the meadow between the stream and the car, eating Brach's candies—the kind you buy in bulk, with an assortment of butterscotch and cinnamon hard candies, chewy brown, white, and pink coconut candies, white nougats with colored jelly candy inside, orange jellies, and chewy toffees. He seemed so happy sitting in the sun, being with family, watching the action, and munching away.
Grandpa was not fat, but sturdily built. He never struck me as particularly tall or short, but he had dark hair that he always combed straight back from his forehead, and it thinned and grayed as he aged. He had large facial features, and his complexion was dark, no doubt due not only to his Native American heritage, but because he must have spent time outside. I never knew if he had a job, or what he did.
When I was older and went to college in Utah, Rainie and her first husband Steve, or sometimes JoanE, would take me with them to go visit Grandpa, who by then had married Bea. I always thought it odd that both of his wives (that I knew of) were named Beatrice.
Bea and Grandpa lived in a little house that we always entered through the back door into a sunny room with big windows. Grandpa used to show us slides. Unfortunately, I only remember a couple of those slides, and those because we always thought it was funny that every time he'd say about one, "and that's my brother Deloy standing in front of that waterfall" and Bea would say "DAMN-IT, Reub, That's YOU!" and then he'd come to another and say, "and that's me standing by that car" and Bea would say with such exasperation, "DAMN-IT, Reub, that's not you, that's DELOY!" Really, they did look a lot alike, I thought. I personally understood how one could get confused. I never knew Deloy or anything about him. In fact, I was surprised as an adult to discover that Grandpa had lots of siblings. Anyway, back to the slides, Rainie and Steve and I used to really giggle about Bea's outbursts. I gather Grandpa made the same mistakes every time he showed those slides.