John Black Line to Ancestors in Galway, Ireland
Early Galway, Ireland
Gaillimhe castle was constructed in 1124, by the King of Connacht. The Annals of the Four Masters note that in that year "Three castles were erected by the Connaughtmen, the castle of Dun-Leodhar, the castle of the Gaillimh, and the castle of Cuil-maeile." Following an unsuccessful week-long siege in 1230, Gaillimhe was captured by Richard Mor de Burgh (Burke). Over the following century Galway thrived under the de Burghs, becoming a small walled town. After the sundering of the de Burgh dynasty in 1333, Galway sought its independence from the feuding Burkes, receiving a charter to build a defensive wall from the Crown in 1396.
Galway received a municipal charter from the crown in December 1484. This ensured the town's independence from the Burkes. At the same time, the creation of the wardenship of Galway gave the townsmen control of the large parish church, St. Nicholas' Collegiate Church.
During the Middle Ages, Galway was ruled by fourteen merchant families called the '"Tribes of Galway."They were the families of Athy, Blake, Bodkin, Browne, D'Arcy, Deane, Font, Ffrench, Joyce, Kirwan, Lynch, Martin, Morris and Skerritt. Of the fourteen families, twelve were of Norman origin, while two — the D'Arcy (Ó Dorchaidhe) and Kirwan (Ó Ciardhubháin) families) families — were Normanised Irish Gaels. The city thrived on international trade. In the Middle Ages, it was the principal Irish port for trade with Spain and France, being the main source of trade to the Western Isles, Scotland, during the Lordship of the Isles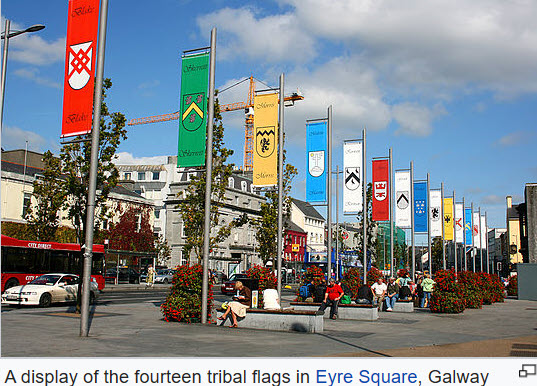 After the Irish Rebellion of 1641, Galway was in a delicate position, caught, in effect between the Catholic rebels (confederate) and its English garrison ensconced in Fort Hill just outside the city. Eventually, Galway citizens, who were predominantly Catholic, went against their garrison and supported the confederate side in 1642. The fort was besieged with the aid of Confederate troops until it surrendered and its garrison was evacuated by sea.
During the 1640s, Galway was heavily fortified against an expected counter-attack by English forces, which eventually materialised when English Parliamentarian forces re-conquered Ireland in 1649–52. Galway surrendered to Cromwellian forces in 1652 after a nine-month siege; plague and expulsions of Catholic citizens followed. The Cromwellian Act of Settlement 1652 caused major upheavals, as peoples from east of the Shannon were transplanted to Connacht and slipped back.
After the demise of the English Commonwealth and the English Restoration in 1660,  the economy of Galway recovered somewhat. In the next crisis, centred on the deposition of the Catholic King James II, in 1689, Galway supported the Jacobite side. It surrendered without a siege under the Articles of Galway of 1691 after the annihilation of the main Jacobite army at the nearby battle of Aughrim. Thereafter, the city became an economic backwater, and the capital of its old great families were spent overseas. It took about 300 years for the city to regain its former status.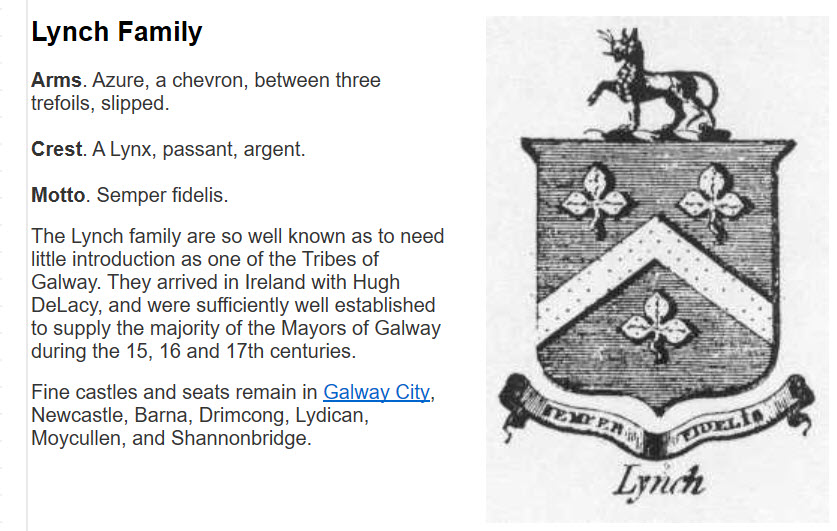 This is one of the most ancient, and, until the middle of the seventeenth century, was one of the leading families in Galway. In the old volume of pedigrees, preserved in the Heralds office, it appears, that, "William le Petit, came to Ireland, in 1185, with Sir Hugh de Lacy, who granted him, by his charter, Macherithirnar, (now the barony of Macherydernan, in Westmeath,) except the Logh and Town of Dysart; that they were palatine barons of Molingare, and that William le Petit, had a son, Nicholas, who was ancestor to the family of Lynch of Galway.
John de Lynch was the first settled of the name Lynch in Galway. He was married to the daughter and sole heiress of William de Mareschall, and, it is stated, that the eldest branch of the family, was called Mareschall, until the male line became extinct. During the greatest part of the 15, 16 and 17th centuries, they possessed the principal authority within the town.
Dominick Lynch Fitz John, commonly called Dominick Dubh, in 1484 solicited and procured the charter of Richard III. under which he caused his brother, Pierce, to be elected first Mayor, and was himself the second. His son Stephen, at the same time, sued out and obtained the bull of Innocent VIII. which established here that singular ecclesiastical jurisdiction, the wardenship.
Thomas Lynch Fitz Ambrose was the last catholic mayor in 1654. This is when the ancient inhabitants were dispossessed by Cromwell.  During a period of 169 years, 84 members of this family, were mayors of Galway. The eldest line of the Lynches from which the younger branches sprung, was distinguished by the appelation of Cranmore, which means, the great tree or stock; and the house of Newcastle, descended from Emon-a-Tuane, who lived in 1342, claimed this distinction.
The present lineal descendants of this family, are, the Count Lynch late Mayor of Bourdeaux, who so eminently distinguished himself in the cause of the royal family of France, against Buonaparte. Additionally, his relative, John Lynch Alexander, Esq. of Galway.
The families of Barna, Cartron, Clough, Drimcong, Lavally, Lydican, Moycullen, Rathglass, and Shannonbridge, in County Galway, Duras in County Clare, and Ballycurren, Castlecarra or Balla, Clogher and Partry in County Mayo, are now the principal of the name.
Lynch Castle
Lynch's Castle on Shop Street is a medieval town house, now a branch of Allied Irish Banks. James Lynch Fitzstephen was the mayor and magistrate of Galway in 1493. So the story goes, when his son was condemned for the murder of a romantic rival Spanish merchant sailor, Lynch Sr personally acted as executioner, hanging him from his window (which is thought to be the origin of the expression 'to lynch').
In Market Street, at the back of St. Nicholas's Church, is the "Lynch Stone," bearing the following inscription:
"This memorial of the stern and unbending justice of the chief magistrate of this city, James Lynch Fitzstephen, elected mayor A.D. 1493, who condemned and executed his own guilty son, Walter, on this spot, has been restored to its ancient site."
On the fateful morning it seems that the Mayor, son and bailiffs were unable to reach the site of execution because a large crowd had gathered to prevent the hanging. The attempt to pass the crowd was hopeless so the mayor, still holding his son, turned back and entered his own house nearby. On reaching an upper window overlooking the street he fastened a rope around his son's neck, secured the other end and launched him from the window hanging him in full view of the crowd assembled below.
It is believed that the original Lynch house was located somewhere on Market Street. The Lynch memorial structure was built in the mid 19th century as a monument to the Lynch hanging and is a built facade containing a mixture of late 15th to early 17th century architectural features. The large window is said to have come from the original Lynch house.
The Martin family is of early origin in Galway. Their pedigree relates, that Oliver Martin was the first of the name, that settled in Ireland. He that he was a follower of Strongbow, and the name Martin was derived from Martius, warlike.
Some researchers, however, are of opinion, that they were of ancient Irish descent. O'Brien and Vallancey, say, "they are derived from the Belgian firbolg, or Martini, (Ir. Mairtinigh), names which still exist in the Cities of Limerick and Galway."
Richard Martin of Dangan or Ballinahinch Castle, is descended from the eldest branch of this family, and the houses of Curraghmore, Ross, Spiddal and Tullyra are numbered amongst the most respectable in this Province.
One of the most famous of the Martin family is Humanity Dick Martin, founder of the society for the prevention of cruelty to animals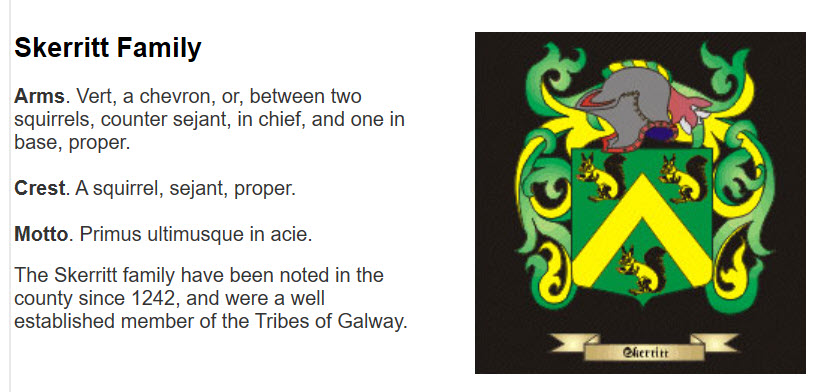 They had seats at Ballinduff, Drungriffin, and Nutgrove, as well as properties in County Clare. This old family is of considerable antiquity in Galway. The name was originally Huscared; and they derive their origin from an English family, one of whom, Roger Huscared, is mentioned by Dugdale, as a judge, at a very early period. Robert Huscared, or Scared, held lands in Connaught, under Richard de Burgo, in 1242.
In the registry of the monastery of Athenry, Walter Huscared and Johanna his wife, are mentioned amongst the principal benefactors of that foundation. Richard Scared or Skeret, who is supposed to have been their son, was Provost of Galway, in 1378. To him belonged, the estate of Ardfry, in Mearuidhe, and other lands about Clare-yn-dowl, now Claregalway to the friars minors; of which convent, he bestowed a piece of ground, on which, part of their monastery was built.
Some of these lands are held by his descendants to this day. The principal branches of this name, at present, are those of Ballinduff,  Carnacrow, Drumgriflin and Nutgrove in County Galway and Finvarra and Funchien in County Clare.
Skerrett Landed Estate Database
John Black Line
   To
The Skerrett, Martin, and Lynch Families in Galway, Ireland
 First Generation
John BLACK. married  Marian Faye JENSEN, daughter of James Christian JENSEN and Della Scott TAYLOR..
Second Generation
Reuben Edward BLACK was born on 25 Mar 1901 in Lehi, Maricopa, Arizona, United States. He died on 9 Jan 1981 in American Fork, Utah, Utah, United States. Reuben married  Mary Beatrice DASTRUP.  Mary Beatrice DASTRUP was born on 14 May 1902 in Sigurd, Sevier, Utah, United States. She died on 20 Nov 1984 in Provo, Utah, Utah.
Third Generation
Nephi James BLACK was born on 3 Feb 1870 in Kanosh, Millard, Utah Territory, United States. He died on 18 Mar 1959 in Las Vegas, Clark, Nevada, United States.  Nephi married Phoebe Loraine HARROP on 15 May 1892. Phoebe Loraine HARROP was born on 3 Aug 1870 in Parowan, Iron, Utah Territory, United States. She died on 21 Mar 1962 in Phoenix, Maricopa, Arizona, United States. She was buried in Mesa, Maricopa, Arizona, United States.
Fourth Generation
George BLACK was born on 6 May 1823 in Lisburn, County Antrim, Ireland. He died on 13 Nov 1872 in Kanosh, Millard, Utah Territory, United States.  George married  Susan JACAWAY on 6 Apr 1850 in St. Louis City, St. Louis, Missouri, United States.  Susan JACAWAY was born on 18 Sep 1835 in Scott, Missouri, United States. She died on 9 Jun 1909 in Antimony, Garfield, Utah, United States.
Fifth Generation
William Young BLACK was born on 20 Aug 1784 in Lisburn, County Antrim, Ireland. He died on 28 Jan 1873 in Rockville, Washington, Utah Territory, United States. William married Jane JOHNSTON on 31 Jul 1822 in Lisburn, Antrim, Ireland. Jane JOHNSTON was born on 11 Jun 1801 in Lambeg, County Antrim, Ireland. She died on 20 Jan 1890 in Deseret, Millard, Utah Territory, United States.
Sixth Generation
William BLACK was born in Mar 1744 in Malone, County Antrim, Ireland.  He died on 4 Feb 1835 in Lisburn, County Antrim, Ireland.  William married Mary GARDINER on 20 Aug 1782 in Lisburn, Antrim, Ireland. Mary GARDINER was born in 1764 in Lisburn, County Antrim, Ireland. She died on 8 Mar 1822 in Lisburn, County Antrim, Ireland.
Seventh Generation
James GARDINER was born about 1725 in Lisburn, County Antrim, Ireland. He died in Ross Abby, County Galway, Ireland. James married Catherine SKERRETT about 1758 in Lisburn, Ireland. Catherine SKERRETT was born about 1724 in.Galway, Ireland.  She died on 21 Jun 1796 in Ireland.
Eighth Generation
 James SKERRETT was born in 1686 in Carrownecroagh, Killursa, Galway, Ireland. . He died on 3 Jan 1739 in Ross, County Galway, Ireland. James married Ellen LYNCH about 1711 in Galway, Ireland. Ellen LYNCH was born about 1690 in Galway, Ireland. She died in 1727.
Ninth Generation
Francis SKERRET was born in 1650 in Killursa, County Galway, Ireland. He died on 3 Jul 1701 in Galway, Ireland. Francis married  Anstace MARTIN.  Anstace MARTIN was born in 1654 in Killursa, County Galway, Ireland. She died on 3 Jul 1707 in  Galway, Ireland.
Tenth Generation
Marcus Martin SKERRET was born about 1622 in Of Galway, Ireland.