ANDREW HUNTER SCOTT B 1861 Sarah Ann Humphreys Roe b 1832
Andrew Hunter Scott, Mayor of Provo, Utah 1861 – 1863
Andrew Hunter Scott was born to Joshua Scott and Nancy (or Ann) Keen in Hulmeville, Middletown Township, Bucks County, Pennsylvania on August 22, 1815. His father was a well-to-do farmer. At age 18, Andrew learned the trade of a tailor. He moved to New Jersey and set up his own tailor business.
On February 18, 1838 Scott married his first wife, Sarah L. Sleeper from New Jersey. Soon after his conversion to Mormonism in 1843, he went on a mission to Philadelphia and the surrounding countryside. He served another mission to southwestern New Jersey in 1845, at which time he and Jedediah M. Grant reorganized the Woodstown Branch.
In the fall of 1845, together with his wife and other Mormons, Scott traveled to Nauvoo, Illinois. He left for the West in 1850, but his first wife refused to accompany him. He and two sons located temporarily in Pottawattamie County, Iowa, where on January 12, 1851 he married his second wife, Sarah Ann Roe.
Scott arrived in the Salt Lake Valley in 1851 and the next year moved to Provo, his home until his death in 1874. A successful farmer and sheep importer, he was instrumental in building the Provo Woolen Mills from 1870 to 1873. Scott also made brooms and worked in beekeeping and silk worm culture. He planted the first fruit trees in Utah County. In 1859 he became the first director of the Deseret Agriculture Society of Utah County.
Scott was a member of the Nauvoo Legion and took part in the Echo Canyon campaign and other military affairs in Utah Territory. In 1861 he was called to serve as bishop of the Provo Second Ward, a position he held until he died.
Scott's service to his community included being city recorder, assessor, collector, treasurer, and water master. In 1856 he helped supervise construction of the Old Tabernacle, or as it was called, the Provo Meeting House. He also supervised the erection of the Court House from 1860 to 1861.
When the Honorable Ebenezer Hanks resigned as Provo mayor at a council meeting on July 6, 1861, a motion was unanimously approved that Andrew Hunter Scott be mayor of the city. When elections were held in February 1863, he chose not to run for re-election. Andrew was the fifth Mayor or Provo, Utah.
On October 11, 1874 Scott died suddenly in his home. His children maintained the family heritage in Provo, although some moved to other areas. For example, the Andrew Hunter Scott farm, begun in 1874, still stands at 1160 West 600 South.
Seventeen of his 24 children married and had children. Their descendants in 1967 formed the Andrew Hunter Scott Genealogical Association. The association publishes a semiannual newsletter and has established a special collection in the BYU Library dealing with their ancestor and his approximately 10,000 descendants.
Biographical Sketches of Former Mayors of Provo, Utah: A Report to the Provo Municipal Government, October 1, 1990, 17-19.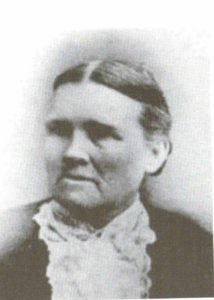 Sarah Ann Humphreys Roe b 1832
After Sarah's father died in 1844, the family began preparations to immigrate to Salt Lake City, Utah. It was during this time that Sarah met a young man by the name of Andrew Hunter Scott who was also planning to go west with his two young sons George and Hyrum. This young man was also from Pennsylvania. His wife, upon finding that he had joined the LDS Church and intended going to Zion, took her two young daughters, sold all they had and left him with the two young boys. Andrew was full of faith and courage, but he never saw his daughters again, although as time went on, his wife wrote letters of remorse.
Andrew approached Sarah, who was 18 years old at the time, and suggested she travel in the same emigrant train and help him keep an eye on his two boys, which she agreed to do.
In April of 1850 Sarah, her mother, brother, and the Scott family left Pennsylvania along with 133 other Saints and traveled to Kanesville (Council Bluffs, Iowa) where they spent the winter. It was during this winter that Sarah and Andrew Hunter Scott were married January of 1851.
When the weather warmed in the spring, they started out for the Valley of the Great Salt Lake in Captain Morris Phelps Company. Sarah wrote in her journal "We traveled over the plains in wagons drawn by oxen and passed only one house in 1,000 miles. Sometimes we camped where there was no water for man or beast and no wood to make a fire with. But we traveled on our journey trusting in our Heavenly Father to preserve us to the end of our journey."
Autobiography by Sara Ann Humphreys Roe
Crossed the mountains into Salt Lake Valley on my 19th birthday September 26, 1851. Stopped in Salt Lake City that winter, lived in our wagon until the latter part of November. My first child was born December 1, 1851 in the ninth Ward of Salt Lake City. Moved to Provo in March 1852, where my husband purchased 16 acres of land with a log house on it, with no floors. The window was a space in the logs about 3 square feet with willows nailed across instead of glass. When I think back to the past, take in consideration our house, situated on the outskirts of the city and on the trail of the Indians to their fishing ground, I cannot help but see a preserving power that protected us through the day and the dark hours of night. Many nights me and my two boys have stayed alone while my husband was working in canyons getting material for fencing, etc.
January 1853, March 17 my second son was born. We moved into the town as the Indians were on the war path, and all living on the outside were counseled to move in. Camped out until we purchased city lots and built up a home again in the second Ward in which I resided till 1865 when I moved out on a farm which we had purchased at which place I still reside.
Many interesting incidents occurred in the past. Some bringing pleasant recollections, others of hardships and wants of the things that need to make us comfortable in this life. The first year we came to Provo, which was 1852 my husband worked a large farm on shares for half of the crop and expected to have 1000 bushels of grain, and other kind of crops in abundance but by the overflowing of the Provo River we lost all except a few bushels of wheat and potatoes which we had to keep for seed the next season, and many were in the same condition. Provisions were not easy to get those days as they are now. We lived poor throughout that winter not having milk, butter meat or potatoes. We raised a few bushels of turnips after the water receded from the farm which we boiled in water, and sometimes for a change we added a little tallow and pepper and made a kind of stew. How would that do to put in a cookbook for a fancy dish? Had to be very careful with our breadstuff to make it last until spring of 1853 when we had a cow come in and borrowed bushels of wheat on interest, a peck to the bushel, which we had made into gram flour, not nice like we have now. The shives and beards of the wheat scratched our throats as it went down, but it lasted until some grain was ripe. After that year we had plenty and some to spare, except two years when the grasshoppers took most of the crops. We would have had plenty for our family, but we divided with others till the last. The last sack of flour we had divided with a poor sister which made us without bread like the rest. We have plenty of fish that suited me, for I liked it, but still craved the bread. I had a half dollar I had for a long time. I bought a half bushel of bran with it for bread which we mixed up with milk and baked them, took the crust off and ate it and put it back in the oven to bake another crust on, and so on until it was all ate up. We had quite a bit of fun over our brand cake sometimes, but that is past.
I hope that our posterity may not have to pass through such privations but I expect they will have all they can endure in some other form for the work of the Lord is that he will have tried people as gold seven times tried in the fire.
February 17, 1869 was nominated to fill the position of President of the Second Ward Relief Society with sister Mary Whipple as first counselor and sister Matilda Loveless as second counselor which being presented by the Bishop was a unanimous vote of the meeting in which position I still remain, being the only president living of the four first presidencies of the four wards in Provo. This position I have tried to fill to the best of my ability.
October 11, 1874 my husband died leaving me with eight minor children, my three oldest be married, making 11 in all. At the present date they are all married except the two youngest which are of age but still living at home. I have tried to bring them up in the faith of their father, a faithful worker to build up the church with his means and time. He was the husband of five wives, father of 23 children and at the present date, I am grandmother of 44 children of my own and 11 step grandchildren by a son of my husband's first wife which I brought up as a small boy. His mother was a Methodist and would not come out to Utah with them, she kept two girls and left the boys (2) which I was mother to. The youngest died June 27, 1852 of erysipelas, only 3 days. I had to wash and lay him out myself as no one could get into the house on account of the water flowing all between own and where we lived at the time. His name was Hyrum Smith Scott. 12 of my grandchildren have passed from this world of sorrow and care. What the next 50 years will bring in posterity and how many will there be? I do not think I will be here in this mortal body and many more who are here in the pleasant happy days of youth. My desire in that all who are of this family to the latest generation may be fateful to their covenants and callings in this life, that we may receive the good words, "well done good and faithful servants, enter into the joys of your Lord," is the sincere desire of my heart for all.
Yours truly,
Sarah Ann Scott
Provo, Utah – March 17, 1892
Relationship Report
for
Alex Black Christiansen b 1996
and
Andrew Hunter SCOTT b.1815
 —————————————————————————————————————
 Andrew Hunter SCOTT is the 3nd great-grandfather of Alex Black Christiansen.
 Lines of Descent from
Andrew Hunter SCOTT
 —————————————–  /  ————  \  —————————————
 Andrew Hunter SCOTT b.1815
    Abby Jane SCOTT b.1864
         Della Scott TAYLOR b.1899
             Marian Faye JENSEN b.1933
                JoanE Black Christiansen b.1956
                    Alex Black Christiansen b.1996
Alex just graduated from Utah Valley University this past spring. While attending school at UVU he held a number of different jobs associated with the university. The last job was with the PR department. While at UVU he took a semester off and studied abroad for a semester at a university in Russia. In addition to speaking fluent Russian, Alex speaks fluent Spanish. Over the past few years, time permitting, he has travelled a major part of the world.