THOMAS BOTELER, Lord of Warrington b 1461 and Margaret Delves B 1458
Generation 11
Sir Thomas Boteler Lord of Warrington, son of John Boteler (Knight) and Margaret Stanley, was born in 1461 in Bewsey, Warrington, Lancashire, England, died on 27 Apr 1522 at age 61, and was buried on 29 Apr 1522 in Boteler Chapel of the Parish Church.  Sir Thomas married Margaret Delves, daughter of Sir John Delves (Knight) and Elizabeth Babbington about 1490 in Doddington, England. Margaret Delves, wife of Sir Thomas Botleer, daughter of Sir John Delves (Knight) and Elizabeth Babbington. Was born in 1458 at Doddington, Cheshire, England.
The Boteler family were Lords of the Manor of Warrington from the time of William the Conqueror until Elizabethan times. By the 13th century they had acquired the large estate in the Bewsey area of Warrington. The name Bewsey is derived frm 'beau see', Norman French for 'beautiful place'.
Sir Thomas Boteler, Knight, founded the Chantry in the Church of Warrington. Sir Thomas succeeded his eldest brother, Sir William, who died unmarred in 1473. Sir Thomas was a minor of the age of ten and a ward of the King at that time. He was devoted to a military life and distinguished himself by his bravery at Flodden. In 1484, he married Margaret, daughter of Sir John Delves of Doddington, knight of Cheshire. Margaret and Sir Thomas had eight daughter and one son. He died 14 April 27th 1522, at the age of sixty years and was buried in this Chapel that was built by his ancestors. he is under a fine table tomb. _ A History of The Chantries within The County Palatine of Lancaster, Vol I, pg. 58
Click the following for more detail:
The child from this marriage was:
1. Margery Boteler
Sir Thomas recognizing the necessity of education made a will in which 500 gold marks from his estate were to be put aside for the purchase of land to found a free grammar school in Warrington to endure forever.  His wishes were carried out when a deed was signed on April 16th 1526, four years after his death, to establish a school.  One of his direct wishes was that the Master be Honest and discreet priest..learned in grammar. The first Master was Richard Taylor. The original school was built on land near to the Parish Church so the boys could pray morning and likewise at night before they departed.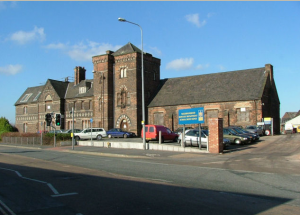 The 2009 image is the historic Boteler Grammar School on School Brow near Sainsburys.  It was established on the death of Sir Thomas Boteler in 1526.  Because the building was remodeled in 1863, it could not be placed on the register of historic landmarks.  Consequently, it was torn down in 2009 to make way for a housing development.
The Sir Thomas Boteler Grammar School is nowadays located in Latchford, right, where it has stood since 1940, a tribute to what must have been a Great Man.
Notes:
Warrington has been a major crossing point on the River Mersey since ancient times and there was a Roman settlement at Wilderspool. In medieval times Warringtons importance was as a bridging point of the River Mersey, and it was a fulcrum in the English Civil War. The armies of Oliver Cromwell and the Early of Derby both stayed near the old town centre (the parish church area). Popular legend has it that Cromwell lodged near the building which survives on Church Street as The Cottage Restaurant. The Marquis of Granby public house bears a plaque stating that the Earl of Derby had his quarters near this site. Dents in the walls of the parish church are rumoured to have been caused by the cannonsfrom the time of the Civil War.
Battle of Flodden
Sir Thomas was devoted to a military life and distinguished himself by his bravery at Flodden.